Addison Trail honors alumnus with Tradition of Excellence award
On Nov. 3, Addison Trail alumnus Adam Amin (class of 2005) was recognized as the school's 2015 Tradition of Excellence recipient. Top left: Amin greets the crowd during the Tradition of Excellence award presentation. Top right: Pictured is the Tradition of Excellence display at Addison Trail, which showcases Amin's accomplishments. Bottom left: (From left) Addison Trail Principal Michael Bolden, District 88 Superintendent Dr. Scott Helton, Amin, District 88 Director of Curriculum, Instruction and Assessment Adam Cibulka (who nominated Amin for the Tradition of Excellence Award) and Addison Trail teacher/Tradition of Excellence Committee Co-Chairperson LeVonne Cescolini-Boyer enjoy the Tradition of Excellence event. Bottom right: Amin (center) speaks on Nov. 4 with Addison Trail students who are members of the school's Student Council.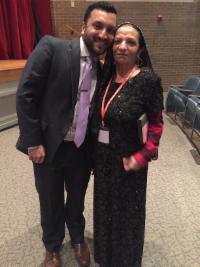 Addison Trail alumnus Adam Amin (class of 2005) poses for a picture with his mother, Zubeda. Amin was recognized as Addison Trail's 2015 Tradition of Excellence recipient on Nov. 3.


On Nov. 3, Addison Trail staff members and alumni, along with community members, welcomed alumnus Adam Amin (class of 2005) as this year's Tradition of Excellence recipient.
The Tradition of Excellence award is the highest honor presented by Addison Trail to its graduates. Initiated in 1999, this annual alumni recognition program has honored recipients in professional fields such as medicine, engineering, science, education, art, music and law.
Amin is a play-by-play commentator for ESPN, ABC, ESPN Radio and the SEC Network. While at Addison Trail, Amin was involved in choir and orchestra and participated in the Illinois Music Education Association (ILMEA). He also was active in theatre and was a member of the volleyball, basketball and football teams. He further gave back to Addison Trail through Pay It Forward, a program to welcome incoming freshmen.
"To come back to Addison Trail, a place where I put in a lot of time and gave a lot of myself in hopes of one day doing something that would make everyone here proud, and to have that validated is incredibly rewarding," Amin said. "I'm very appreciative of this recognition."
During the induction ceremony, Amin thanked those present for their support and encouragement. He also recognized the effort educators put forth each and every day to build futures for students.
"I know it can be challenging to push through the daily grind, but understand you're making a positive difference in the lives of your students," he told the teachers in the audience. "You might not get to see the impact you're making, but you're shaping lives."
Addison Trail social studies teacher LeVonne Cescolini-Boyer, co-chairperson of the Tradition of Excellence Committee, said Amin was an easy choice for the award. She shared photos of Amin from high school, as well as video clips from his successful career. She said she'll always remember Amin as an outgoing and involved student, who always had a smile on his face.
On Nov. 4, Amin spoke with students and shared with them the importance of pursuing their dreams. He had lunch with members of Student Council and hosted sessions with students in journalism and sports marketing classes. He also met with theatre and Lettermen's Club.
To see Amin's biography, go to https://www.dupage88.net/site/public/files/?item=2570. To see a video of his work (courtesy of ESPN), go to http://tinyurl.com/optg7e6.
To be considered for the Tradition of Excellence award, nominees must have graduated from Addison Trail more than 10 years ago; distinguished themselves in the academic, artistic, business, professional, entrepreneurial or public service field; demonstrated an ability to serve as an outstanding role model for current Addison Trail students; and performed services and/or accomplishments that have brought credit to their alma mater. To nominate someone for the Tradition of Excellence award, go to https://dupage88.net/site/public/files/?item=644.