Addison Trail 2023-24 yearbook on sale now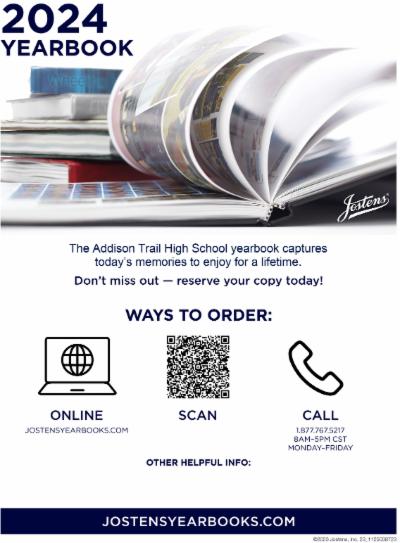 Attention, Addison Trail students and families!
The school's 2023-24 yearbook, ATtribute, is on sale now!
Books cost $55 each and are available to buy online at www.jostens.com/apps/store/customer/1076507/Addison-Trail-High-School/?error=true&errorFile=no-catalog-products-error.htm or https://dupage88.revtrak.net/aths-yearbook. Yearbooks also will be on sale during Open House on Aug. 31 (visit the ATtribute booth in the Student Commons area).
For questions or more information, contact Addison Trail yearbook adviser Jessica Clark at jclark@dupage88.net, or see the image above.