Addison Trail names September recipient of 88's Best recognition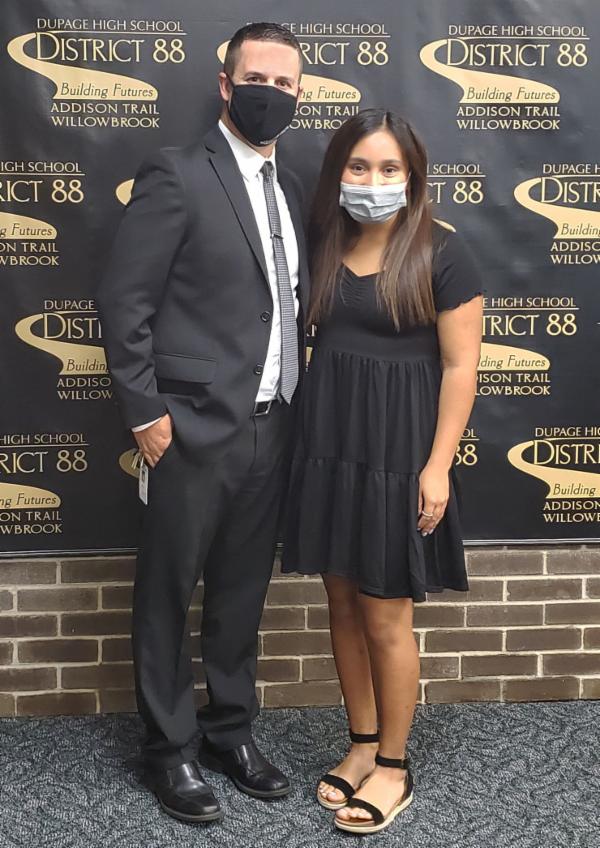 Maria Martinez (pictured above, with Addison Trail Principal Jack Andrews) has been named as Addison Trail's September recipient of 88's Best recognition for her outstanding academic accomplishments. Martinez, a senior, was recognized during the Sept. 20 District 88 Board of Education meeting. To watch her 88's Best presentation, click on the video above.
Martinez credits her mother, Alejandra, as her largest influence and key to her success. Martinez said she knows and appreciates just how hard her mother has worked to provide her and her four older siblings with opportunities her mother didn't have.
Academic achievements:
Completed 14 Advanced Placement (AP)/college-level courses
Completed 17 honors courses
Taking Calculus 3 Independent Study at a local university
Received a grade of A in every course she has taken
Named as AT's Best twice
Named as the World Language Department's Student of the Semester
Involvement at Addison Trail:
Serves on the National Honor Society Board
Serves on the Tri-M (Modern Music Masters) Honor Society Board
Active leader in the Music Department, where she serves as a Drum Major
Member of the Math Team
Future plans:
Martinez will apply to many colleges and universities. Wherever she lands, she knows she will be ready to take on the new challenges of college life, just as she was in high school. She plans to begin her studies in a pre-medical program and has aspirations to pursue a career as a medical doctor.
Staff member comments:
"Martinez is an exceptional student musician. As a freshman, she entered ATHS with very strong musical skills, but continued to find ways to improve herself – even though she was already playing better than many of her peers. I mentioned to Martinez we could use players in Jazz Ensemble, and she enrolled in that class, at first playing clarinet and eventually teaching herself saxophone. Martinez currently serves as one of the senior drum majors in the band, and as such is responsible for helping run rehearsals, conduct the band at football games and organize behind the scenes. Martinez is taking two math classes this year, and when one of those classes conflicted with band, she petitioned to complete the coursework as an independent study. Martinez has been recognized by the Music Department for her outstanding musicianship and leadership, and we would like to congratulate her on being District 88's Best."
- Mark Corey, Addison Trail Music Department Head and Band Director
"Amazing student! I had Martinez all last year in AP U.S. Government and AP Comparative Government. Although I did not 'see' her in the classroom until March, she participated all of the time on Zoom. She was a breath of fresh air, because I saw her face, and she always had a smile! When I finally met her in person last spring … her warmth in the classroom made the class enjoyable every day. She truly is a pleasure to have in class! Congrats!"
- LeVonne Cescolini-Boyer, Addison Trail social studies teacher
"Martinez was a quiet, but strong force in AP Language. She earned a 4 on the AP Language exam because of her outstanding ability to read closely and critically and then articulate her arguments with clarity. Martinez never dominated class discussions, but she was ever-present and thoughtful with her contributions. She is a kind and positive young lady, who brought her best effort to class each day. It was a pleasure to have her in class last year."
- Amy Ferraro, Addison Trail English Department Head
"I have taught Martinez since her freshman year. She has ALWAYS gone above and beyond in class. Not only is she academically strong in AP Italian, but she's a good and kind student. This combination will fare well for her in the future. Congratulations!"
- Judie Vitiritti-Lynch, Addison Trail world language teacher
District 88 values the hard work and achievements of students and wants to make sure students are honored and recognized for their accomplishments. The District 88 Board of Education and administration created the 88's Best award to highlight students' success. That award recognizes nine Addison Trail and nine Willowbrook students each school year for reaching their personal best in various areas. Recipients are honored during a District 88 Board of Education meeting in one of the following areas: academics, highly improved performance, extracurricular activities, service work or performing arts/electives. They receive an 88's Best glass sculpture and a certificate to a local restaurant.