Addison Trail names August recipient of 88's Best recognition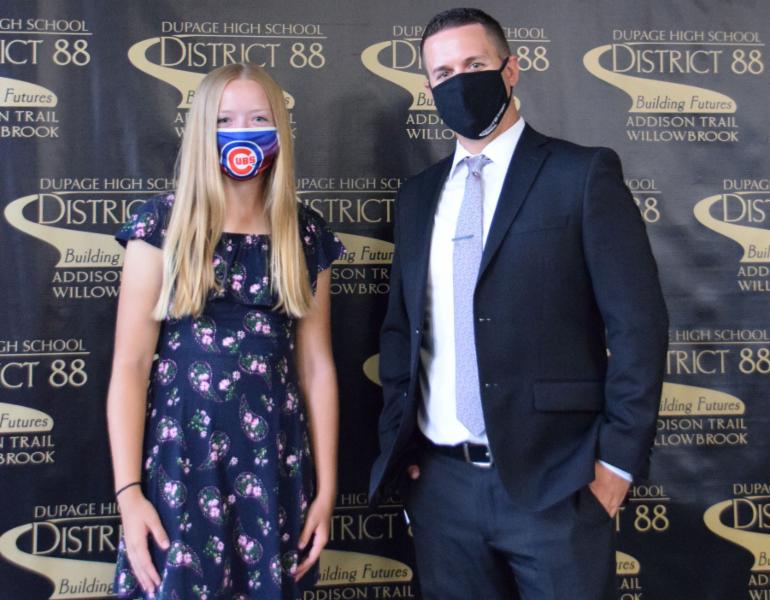 Lindsay Stevenson (pictured above, with Addison Trail Principal Jack Andrews) has been named as Addison Trail's August recipient of 88's Best recognition for her outstanding academic accomplishments. Stevenson, a senior, was recognized during the Aug. 30 District 88 Board of Education meeting. To watch her 88's Best presentation, click on the video above.
Stevenson said the transition from a small parochial school, with a graduating class of just four students, to a high school of nearly 2,000 students was a little scary at first, but she found the drive to not only achieve academically, but to become a true Blazer. Stevenson credits being willing to step out of her comfort zone, getting involved in many activities and meeting a lot of people as part of her success.
As a student, Stevenson has challenged herself by taking a rigorous course load year after year, and she continues to push herself to do her absolute best. She attributes her work ethic to her parents, who taught her the importance of hard work, and to her sister, who consistently set a high standard of achievement. As a freshman, Stevenson set a goal of being at the top of her class academically. She has undergone a tremendous amount of personal and academic growth to make her goal a reality.
Academic achievements:
Completed 15 honors courses
Completed 13 Advanced Placement (AP)/college-level courses
Involvement at Addison Trail:
Editor-in-chief of Addison Trail's student newspaper, The Torch
President of National Honor Society (NHS)
Student Council Board member
Three-sport athlete (girls tennis, girls bowling and girls badminton)
Member of Math Team (where she is a Sectional champion and a top-five finisher in the state)
Business Professionals of America (where she placed 2nd nationally)
Future plans:
After Stevenson graduates from Addison Trail, she plans to attend college. She looks forward to continuing a challenging path and will pursue a double major in journalism and business.
Staff member comments:
"Stevenson is an obvious choice to be celebrated as one of District 88's Best. As editor-in-chief of the AT student newspaper, The Torch, Stevenson has already proven herself a reliable and talented member of the staff. Not only did she contribute as a co-editor during her junior year by developing the newspaper website, but she spent many hours in August already, before the school year even started, by decorating the publications lab and compiling an official Torch Style Guide for our upcoming editions. Her leadership is already on full display, as she leads the staff in brainstorming meetings for stories, photos and graphics for our first edition. Additionally, she was one of the few juniors last May who achieved a perfect score of 5 on her AP Language and Composition test. She is the perfect storm of talent and motivation, which means she will accomplish countless goals during her senior year and beyond."
- Stephen Bruns, Addison Trail English teacher
"Stevenson is an amazing student. She is hardworking, responsible and respectful – a TRUE BLAZER! I was so happy to have her in two classes last year. She participated in Zoom discussions, and she was always present. I could only hope to have more and more students like Stevenson."
- LeVonne Cescolini-Boyer, Addison Trail social studies teacher
"Stevenson is a great student and an amazing leader in the building and surrounding community. She is involved in so much at Addison Trail, and she is a true model of how to take advantage of everything our school has to offer. Her academic success will open many doors for her in the future, but it is her hard work and dedication to people that will set her apart from the rest."
- Rob Schader, Addison Trail Department Head for physical education, health and driver education
"Stevenson is an example of one of the reasons why I continue to have faith in this generation of young people. She is a tremendously positive, kind and loyal person."
- Steve Holland, Addison Trail Director of Deans
District 88 values the hard work and achievements of students and wants to make sure students are honored and recognized for their accomplishments. The District 88 Board of Education and administration created the 88's Best award to highlight students' success. That award recognizes nine Addison Trail and nine Willowbrook students each school year for reaching their personal best in various areas. Recipients are honored during a District 88 Board of Education meeting in one of the following areas: academics, highly improved performance, extracurricular activities, service work or performing arts/electives. They receive an 88's Best glass sculpture and a certificate to a local restaurant.