Addison Trail senior selected as a National Honor Society Scholarship semifinalist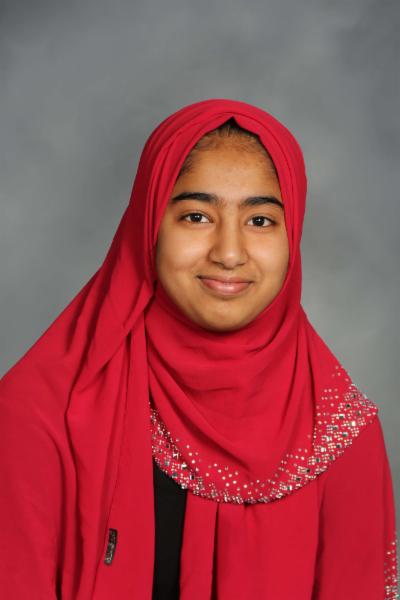 Addison Trail senior Huda Siddiqui (pictured above) was recently selected as a National Honor Society (NHS) Scholarship semifinalist. Siddiqui was chosen from nearly 10,000 applicants and will receive a $3,200 scholarship toward higher education.
Scholarships are awarded to outstanding NHS senior members to assist with college access and student success. The scholarship program is supported by the parent organization of NHS, the National Association of Secondary School Principals (NASSP). In the 100 years since NHS was founded in 1921, members have been making a difference in their schools and communities, and the NHS Scholarship is NASSP's way of recognizing the most exceptional of these student leaders. Recipients are chosen based on their demonstrated work to support the four pillars of NHS: scholarship, service, leadership and character. For more information about NHS, the scholarship and the 2021 recipients, go to www.nhs.us.
At Addison Trail, Siddiqui has been a vital part of NHS as the Historian. She is a leader inside the classroom and beyond and has taken 10 honors courses and 16 Advanced Placement (AP)/college-level courses, earning an A grade in each. She is at the top of her class and has been named as an AP Scholar with Distinction and a Leadership Enterprise for a Diverse America (LEDA) Scholar. Siddiqui also has participated in the school's Muslim Student Association, Key Club, Student Council, UNICEF, Science Club, Psychology Club, Blazer Ambassadors, Youth Equity Stewardship (YES!) series (a program focused on preparing students to recognize and learn from the diversity around them) and the girls track, tennis and badminton teams.
Not only is Siddiqui a full-time student at Addison Trail, but she also has attended Islamic School since fifth grade and is part of the Islamic Scholar program, where she has ranked No. 1 in her class for six years. She studies Islamic history and the Quran extensively, and she can read, speak and write in Classical Arabic, Urdu and Persian. Siddiqui's passion for mental health, particularly in the Muslim community, led her to create "Grateful Guidance," a project dedicated to providing more resources and empowering students to improve their mental health. Her project seeks to reduce the stigma that surrounds mental health and emphasize the importance of self-care and mental health education. Her plan even includes how to do this in a remote environment and how to help students develop their own set of resources and personal spaces to stay mentally healthy.
This fall, Siddiqui plans to attend Northwestern University or Yale University to study psychology, Arabic and Islamic studies.