Addison Trail celebrates annual Student Recognition Program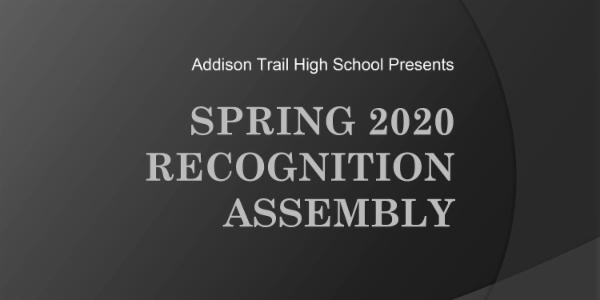 CLICK HERE TO VIEW THE STUDENT RECOGNITION PROGRAM
Addison Trail recently celebrated its annual Student Recognition Program. Because of the coronavirus disease 2019 (COVID-19) pandemic, the event was hosted virtually. To view the program, click the image or the link above.
The program honored students for their accomplishments in academics (including recognizing the Outstanding Senior in each department), athletics and extracurricular activities.


The 2019-20 staff retirees were highlighted. They are Christine Ehredt, Ronald Kolodziej and Barbara Musial.


Sheri D'Ambrose (Addison Trail physical education teacher and Student Council co-advisor) was recognized as the 2019-20 recipient of the school's Outstanding Achievement Award.


For the seventh year, the District 88 Foundation awarded mini-grants to staff members. That financial support allows staff to develop a variety of instructional opportunities to benefit students. This year, the foundation awarded Addison Trail math teacher Eric Norberg with a mini-grant entitled "Bolt," which is a hands-on project/experience that teaches students how to program a robot to perform a variety of functions.