Addison Trail to host Young Hearts for Life free cardiac screenings
February 20, 2020 07:00 AM - February 20, 2020 03:00 PM
Addison Trail (field house)
Edward-Elmhurst Health, District 88 and Addison Trail are committed to ensuring the safety, health and well-being of students.
As part of that mission, the district has partnered with the Young Hearts for Life® (YH4L) Cardiac Screening Program, a not-for-profit organization, to offer free electrocardiograms (ECGs) to identify high school students at risk for heart conditions. District 88 and Addison Trail highly encourage parents/guardians to register their student for this event, and details are listed below.
Parents/guardians and community members also are needed to help run the event, and details about how to sign up as a volunteer are listed below as well.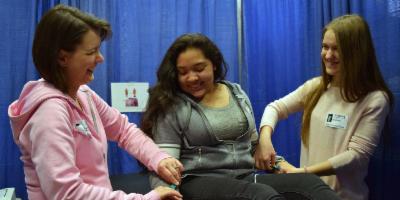 Edward-Elmhurst Health is generously sponsoring this FREE cardiac screening for all Addison Trail students.
When: Feb. 20, 2020
Where: Addison Trail High School, 213 N. Lombard Road in Addison
Register your student: To register your student to be screened, and for more information about the benefits of the Young Hearts for Life program, go to https://tinyurl.com/YH4LRegistration. The registration deadline is Feb. 17. For frequently asked questions about the screening process, go to http://www.yh4l.org/faq.
The school with the highest percentage of student participation will win an AED for the school, so be sure to register your student today! See details at www.dupage88.net/YH4LAED2019-20.
Volunteer at this event:
Sign up by Feb. 17 to be a volunteer and help at Addison Trail's Young Hearts for Life event at

https://signup.com/go/bbtCmqe

.


Volunteering involves:

Attending a training session on Feb. 19 from 5:30 to 7 p.m. or from 7 to 8:30 p.m. (A 30-minute training session is available for returning volunteers from 5:30 to 6 p.m. or from 7 to 7:30 p.m.)


Committing to a shift on Feb. 20 from 7 to 11:30 a.m. or from 10:45 a.m. to 3 p.m. Volunteers also can sign up for the full day (from 7 a.m. to 3 p.m.). A light lunch will be provided to those who volunteer for the full day.
Video contest: Students are encouraged to participate in the Young Hearts for Life Video Contest. The best video at each school will receive $100 and will be entered to win the grand prize of $500. Entries should be two to three minutes long and focus on the benefits of receiving a cardiac screening. The deadline to submit videos is April 15, 2020. For details, go to www.dupage88.net/YH4LVideo2019-20.