Addison Trail honors alumna with Tradition of Excellence award

Left: Pictured is Addison Trail alumna Kathleen Willis (class of 1980), who was named as the school's Tradition of Excellence recipient for 2019-20 on Nov. 5 and 6. That award is the highest honor presented by Addison Trail to its graduates. Willis is serving her fourth term in the Illinois General Assembly as State Representative of the 77th District and also serves as House Majority Conference Chair. Middle: Willis stands by the Tradition of Excellence display case at the school, which features engravings of past recipients and memorabilia highlighting Willis' successes and career path. Willis was inducted into the Tradition of Excellence on Nov. 5, and she met and spoke with students on Nov. 6. Right: Willis poses with retired Addison Trail social studies teacher Dan Jares, who introduced her during the Tradition of Excellence events. Photos by Addison Trail senior Sabrina Boucekkine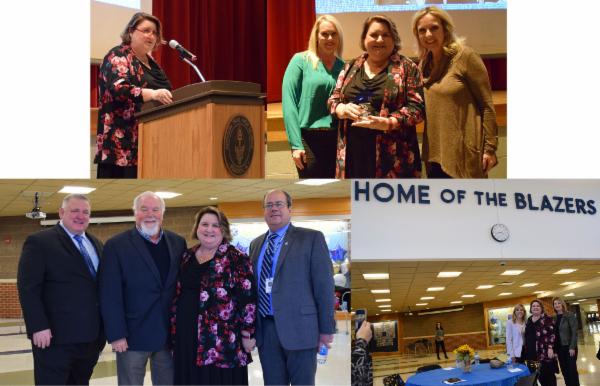 Top left: Addison Trail alumna Kathleen Willis (class of 1980) is inducted as the school's Tradition of Excellence recipient for 2019-20 on Nov. 5. That award is the highest honor presented by Addison Trail to its graduates. Top right: Willis (center) poses with Addison Trail special education teacher Melissa Morales (left) and social studies teacher LeVonne Cescolini-Boyer (right). Morales and Cescolini-Boyer are Co-Chairs of the Tradition of Excellence event, along with Guidance Counselor Tina Gatses. Bottom left: Pictured are (from left) District 88 Superintendent Dr. Scott Helton, District 88 Board of Education Vice President Jay Irvin (who also is an Addison Trail alumnus), Willis and Addison Trail Principal Michael Bolden. Bottom right: Willis (center) poses with fellow State Representatives Terra Costa Howard (left, who also is an Addison Trail alumna) and Deb Conroy (right).
By Sabrina Boucekkine
Addison Trail senior
Addison Trail faculty and students welcomed alumna Kathleen Willis (class of 1980) as this year's Tradition of Excellence recipient during an induction ceremony on Nov. 5 and assemblies on Nov. 6.
The Tradition of Excellence award is the highest honor presented by Addison Trail to its graduates. Initiated in 1999, this annual alumni recognition program has honored recipients who have succeeded in fields such as medicine, engineering, science, education, art, music and law. To be considered for the Tradition of Excellence award, nominees must have graduated from Addison Trail more than 10 years ago; distinguished themselves in the academic, artistic, business, professional, entrepreneurial or public service field; demonstrated an ability to serve as an outstanding role model for current Addison Trail students; and performed services and/or accomplishments that have brought credit to their alma mater. To nominate someone for the Tradition of Excellence award, go to www.dupage88.net/TOEForm.
Willis is serving her fourth term in the Illinois General Assembly as State Representative of the 77th District and also serves as House Majority Conference Chair. She currently sits on seven committees, including the Committee on State Government, Human Services Appropriation and School Curriculum and Policy. She also chairs the Fire and Emergency Services Committee. Willis has worked and voted on many pieces of legislation that are in place, including legislation on health care needs and education throughout the state.
Before becoming a representative, Willis worked as coordinator of access services at the Elmhurst College Library and as a part-time teacher of children's and adolescent literature. She also has always been an active member of her community. A mother of four children (all of whom also graduated from Addison Trail), Willis served three terms as a member of the Addison School District 4 Board of Education. As a member of the American Association of University Women, she helped found and organize the "Dare to Dream" program, mentoring young Latina girls and their mothers to make good choices to promote education and combat truancy. She has been Vice President of the Kiwanis Club of Addison, Chair of the Addison Special Events Commission and has helped coordinate the Addison Mayor's Community Charity Ball as well.
Willis graduated from Elmhurst College with a bachelor's degree in Human Services Administration in 2000 and continued her education at University of Illinois at Urbana-Champaign, receiving a master's degree in Library and Information Services in 2005. She and her husband, Tom, live in Addison.
Retired Addison Trail social studies teacher Dan Jares introduced Willis and spoke about her journey, from when she began high school to where she is now. Jares said Willis was an "active, engaged and responsible student, who conducted herself with the utmost integrity."
Willis emphasized the importance of extracurricular activities and how being involved in high school clubs helped shape her political career. During her four years at Addison Trail, Willis was a devout member of Model United Nations, Youth in Government, National Honor Society and more. She said being a member of those activities provided her with opportunities to learn about government in an engaging way from a young age.
"My work in Youth in Government and Model UN helped me understand politics in a worldwide base," Willis said.
Willis concluded her speech by discussing the importance of home and what it means to her.
"There truly is no place like home, and that's what Addison Trail is for me," Willis said.
Willis was interviewed by Addison Trail Youth in Government students for Addison Community Television (ACTV), and that segment can be viewed by clicking the video above.