Test-drive a Ford to raise money to support Addison Trail and Willowbrook students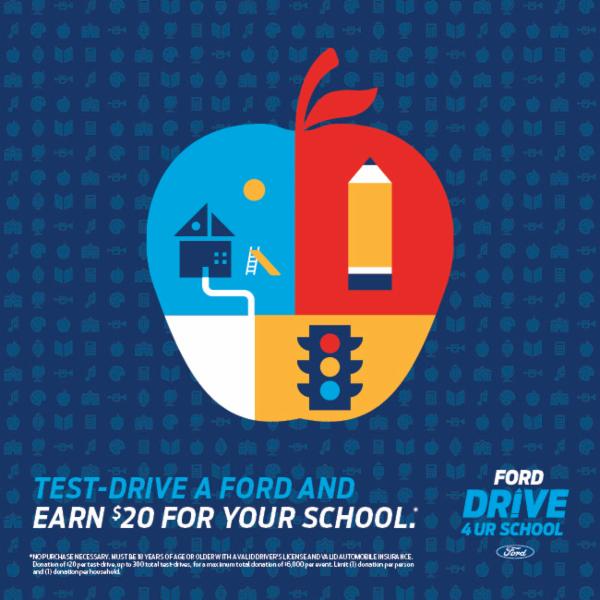 Roesch Ford in Bensenville is bringing Ford Motor Company's Drive 4 UR School program to the District 88 community in an effort to raise up to $6,000 (per event) to benefit District 88 students. For every person who test-drives a new Ford vehicle at the time and date listed below, Ford Motor Company will donate $20 to the District 88 Foundation.
Oct. 25: 5 to 7 p.m. at Addison Trail, 213 N. Lombard Road in Addison (sign up for a test-drive at

https://d4ur.com/8K4YY

)
Funds raised by the District 88 Foundation have been used to support students through initiatives such as providing computers and Internet access, subsidizing Advanced Placement (AP)/college-level tests and offering mini-grants for staff to develop instructional opportunities for students. The District 88 Foundation is a member of the Partnership for Inspired Education (PIE) Foundation, a 501(c)(3) charitable organization that serves public school students in District 88, Addison School District 4, District 45 and Salt Creek School District 48. For more information about the foundations, go to www.dupage88.net/foundation.
The test-drive events will feature many vehicles from Ford's impressive lineup. Dealership staff on-site will be able to assist and provide more information about any of the Ford vehicles available for a test-drive. To date, Ford Dealerships throughout the U.S. have helped raise more than $40 million for local schools and nonprofits, thanks to their hard work and working with the Drive 4 UR School and Drive 4 UR Community programs.
* NO PURCHASE NECESSARY. MUST BE 18 YEARS OF AGE OR OLDER WITH A VALID DRIVER'S LICENSE AND VALID AUTOMOBILE INSURANCE. Donation of $20 per valid test-drive, up to 300 total test-drives, for a maximum total donation of $6,000 per event. Limit one (1) donation per person and one (1) donation per household.