District 88 invites stakeholders to attend Crosstown Classic Football Game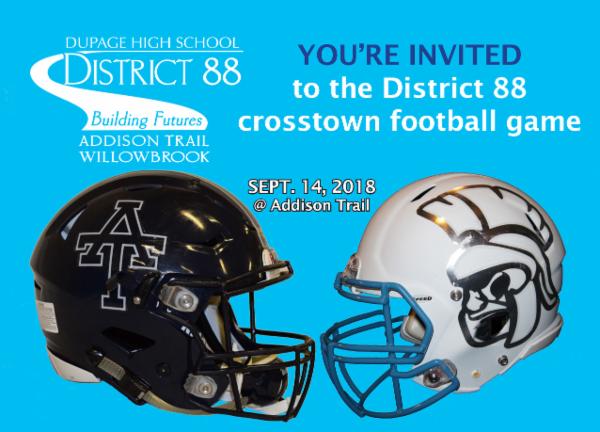 It's football season, and District 88 invites all stakeholders to attend the District 88 Crosstown Classic Football Game between the Addison Trail Blazers and the Willowbrook Warriors on Sept. 14.
This year marks the 53rd crosstown classic, and the teams will take to the gridiron at Addison Trail, 213 N. Lombard Road in Addison. This will be Addison Trail's Homecoming game.
Just before the varsity game begins (about 7 p.m.), there will be an introduction of local community leaders, dignitaries and service groups. The district also will recognize area first responders and veterans to honor those who protect and serve in remembrance of Sept. 11, 2001.
For questions or more information, contact District 88 Director of Community Relations Dani Brink at dbrink@dupage88.net or 630-530-3989. The district looks forward to seeing everyone to enjoy a night of football, friendship and fun!