Addison Trail to present fall play, 'Peter Pan'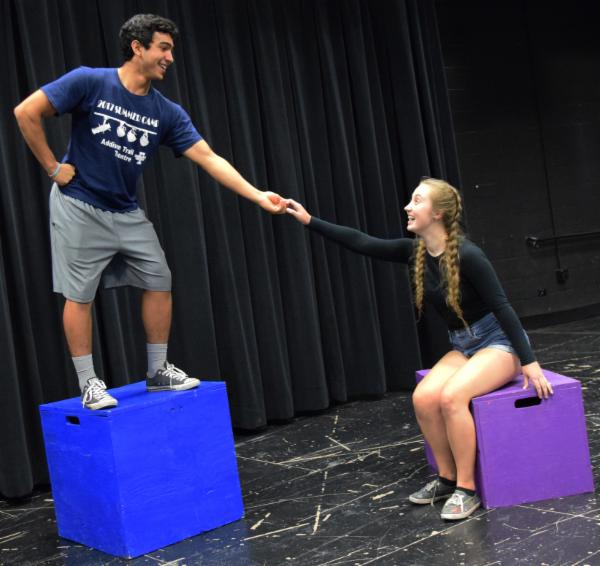 Addison Trail senior Juan Jakoby Bracamontes (Peter Pan) and sophomore Dominika Zdanowicz (Wendy Moira Angela Darling) rehearse a scene from Addison Trail's upcoming fall play, "Peter Pan." The show will take place on Oct. 19, 20 and 21.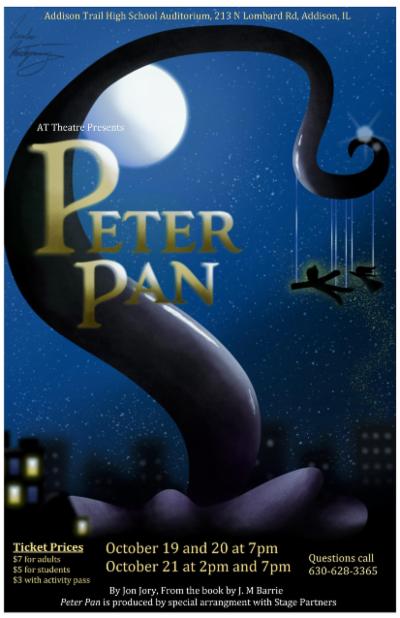 Members of Addison Trail Theatre invite you to travel back in time to your childhood and join them as they fly to Neverland during the school's upcoming fall play, "Peter Pan."
The play takes audience members on a magical journey to Neverland – a world filled with fantastical adventure. The story follows Peter Pan (played by Addison Trail senior Juan Jakoby Bracamontes) as he meets Wendy Moira Angela Darling (played by Addison Trail sophomore Dominika Zdanowicz) during a visit to the real world. Peter faces many obstacles in Neverland – including battling his nemesis Captain Hook (played by Addison Trail senior Nicolas Montgomery) – but discovers his biggest struggle is between never wanting to grow up and watching as Wendy continues to age.
"I want every individual who walks into the theatre to get the full impact of the play and to connect with the story," Bracamontes said. "Children and adults will enjoy this show, as there are many levels to the messages it shares."
He added it has been a fun challenge to portray such a classic and well-known character.
"Everyone grew up with 'Peter Pan,' and there are so many versions of the story," Bracamontes said. "It's an amazing honor to portray this character, and I know I have a responsibility to bring him to life on the stage."
Zdanowicz said she remembers reading the book and watching the movie when she was younger, and she hopes Addison Trail's performance will provide a sense of wonderment for children and a nostalgic escape for adults.
Addison Trail Theatre Director Anna Jakubka said she chose "Peter Pan" at the request of the senior class. Members of that group saw a performance of "Finding Neverland" on Broadway during a trip to New York two years ago and have wanted to do a similar show ever since. She said the school will use an adapted version by Jon Jory, from the novel by J.M. Barrie. In this version, the script allows for creative effects to provide the illusion of flying, including the use of a Star Curtain (a black curtain with LED lights to simulate stars). It also scripts Wendy as an only child.
Although the play is designed for children, Zdanowicz and Bracamontes said all ages will be entertained.
"'Peter Pan' reminds us that even when we're older, there will always be a part of us that has a sense of adventure and longs for the time of childhood innocence," they said. "We're never too old to believe in a world of magic and dreams."
"Peter Pan"
When: 7 p.m. Oct. 19, 20 and 21 (also a 2 p.m. performance on Oct. 21)
Where: Addison Trail, 213 N. Lombard Road in Addison
Tickets: Tickets cost $7 for adults, $5 for students, $3 with an Activity Pass and are free with a District 88 Senior Gold Card. To buy tickets, call 630-628-3365, or e-mail at.theatre88@gmail.com.