Discover the benefits of the Project Hire-Ed Apprenticeship Program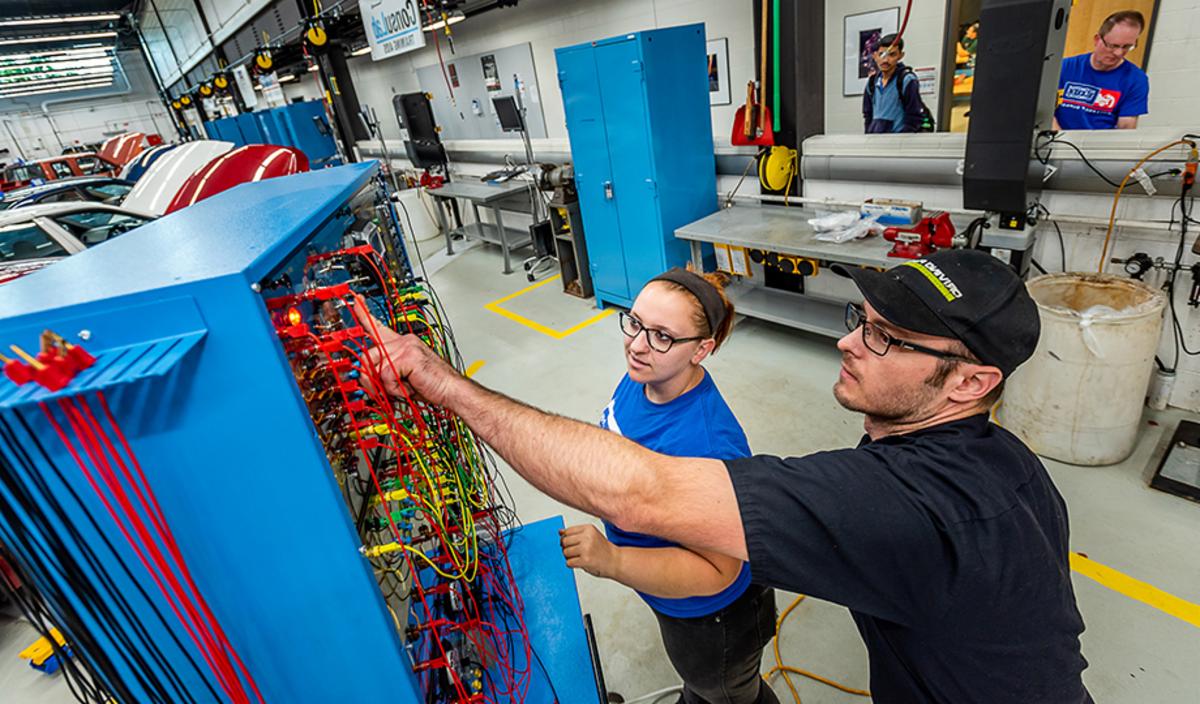 (Photo taken prior to COVID-19 and mask mandates)
WHAT IS THE PROJECT HIRE-ED APPRENTICESHIP PROGRAM?
Project Hire-Ed launched in 2018 with the intent to build a bridge between workforce needs and education to help employers find the right talent for their organizations and to teach students the skills employers are seeking. The program is the result of a partnership between the Addison Workforce Development Committee (which was started by Village of Addison Mayor Richard Veenstra) and College of DuPage (COD). Geared toward soon-to-be and recent high school graduates or those looking to retool their skills, apprenticeship programs provide hands-on training to an employee while gaining necessary competency. They offer skills in a particular occupation, help connect to a career pathway and combine on-the-job training with appropriate instruction. It is commonly referred to as an "Earn and Learn" model.
An online information session about Project Hire-Ed will take place at 6:30 p.m. on Feb. 8. To reserve a spot, go to https://cod.edu/project-hire-ed/information-session.aspx.
WHAT ARE THE BENEFITS OF ENROLLING IN PROJECT HIRE-ED?
In this model, Addison employers pay apprentices full-time employment wages and pay for their tuition to attend COD to develop job skills through work-based learning. Participants are provided with on-the-job training and a COD certificate in applied technology, which is stackable, and industry credentials.
HOW DOES THE PROGRAM WORK?
Project Hire-Ed is a four-year program – two years to complete the coursework and two more years working with the employer.
Students in Project Hire-Ed must complete:
A seminar that introduces program options, career pathways, career readiness skills, development services and participating employers


Four courses that focus on foundational skills: Industrial Safety, Customer Service, Technical Writing and Microsoft Office software


Six technical skills classes, depending on the specific job track (tracks include Manufacturing Machining, Welding, Manufacturing CNC, Industrial Maintenance, Facility Maintenance, HVACR Service and Electro-Mechanical/Mechatronics)
WHO CAN ENROLL IN PROJECT HIRE-ED?
Project Hire-Ed is open to individuals 18 years old and older who are current COD students, career changers, veterans, unemployed, under-employed, recent high school or GED graduates or current high school students. There's even an opportunity for high school students to earn dual-credit through the program. High-schoolers can take the seminar class, as well as two technical courses, to get started before they graduate.
HOW DO I LEARN MORE ABOUT PROJECT HIRE-ED?