District 88 Board of Education installs new Board member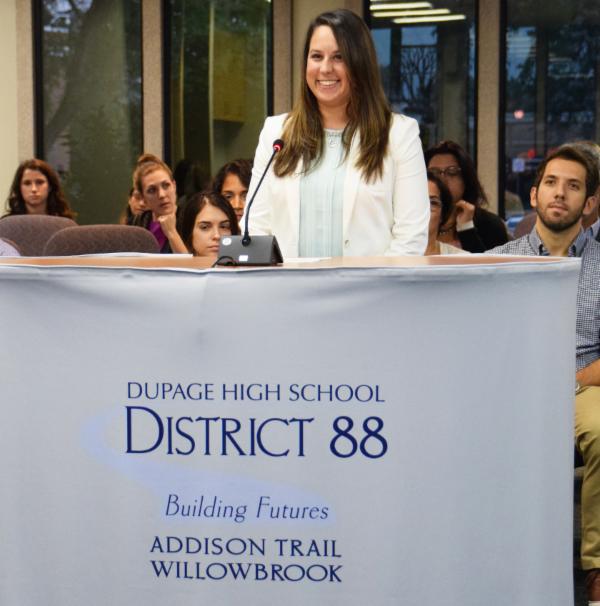 Tina Haralambopoulos completes the Oath of Office and is installed as a member of the District 88 Board of Education on Aug. 27.
During its Aug. 27 meeting, the District 88 Board of Education installed Tina Haralambopoulos as a new member of the Board. Watch the installation at https://www.dupage88.net/site/page/9435 (click on "Oath of Office - Installation of Appointed Board Member").
Haralambopoulos was appointed during a Special Meeting on Aug. 2 to fill a seat that opened after Timothy Gillen resigned from the Board. She will assume that position until the Consolidated Election on April 2, 2019.
Haralambopoulos graduated from Addison Trail in 2002, where she was a member of the Varsity Girls Swim Team, the Blazettes and the Art Staff. Many of her family members are alumni of Addison Trail as well. Her degrees and career background are in education, and she earned her associate degree in science from College of DuPage, her Bachelor of Arts degree in elementary education from Northern Illinois University and her Master of Arts degree in curriculum and instruction from Concordia University, where she also is pursuing her doctoral degree in organizational leadership. Haralambopoulos began her career in education seven years ago as an elementary teacher at a private school in Schaumburg, and she now teaches English as a Second Language (ESL) at a hybrid charter school in Chicago. Through those positions, she has served on the Parent-Teacher Organization as a member and as President; as a member of the Curriculum Committee; and as President of the Staff Leadership Committee. To read more about Haralambopoulos, go to https://www.dupage88.net/site/page/9404.
Haralambopoulos joins District 88 Board of Education members Donna Craft Cain (President), Jay Irvin (Vice President), Sharon Kucik (Secretary), Thomas Edmier, Blanca Jessen and Mark Turk.
District 88 would like to thank Gillen for his years of service and recognized him during the Aug. 13 District 88 Board of Education meeting. To watch that presentation, and to read more about Gillen, go to https://www.dupage88.net/site/page/9416.