Warrior Wellness: Willowbrook Physical Education Department shares an inside look at ACHIEVE Physical Education class
Willowbrook students are working hard every day to become more educated with their health and wellness, and we are thrilled to showcase those accomplishments through this monthly column.
Students enrolled in Willowbrook's ACHIEVE Program and our BRC program participate in our ACHIEVE Physical Education class. ACHIEVE Physical Education is an incentive-based program to help improve student motivation, responsibility, peer interactions and social skills. The goal is to provide students with enough choices to be able to take control of their own physical fitness with activities in which they can continue participating for a lifetime.
With ACHIEVE and BRC staff support, students are provided with opportunities to interact with teachers through a variety of activities on Faculty Fridays. This incentive helps students feel more connected with staff outside of the classroom and is typically a highlight of their week.
Activity choices include:
Basketball
Soccer
Badminton
Volleyball
Team handball
Walking/running the track
Weightlifting/cardio
ACHIEVE Physical Education students also complete the following fitness tests:
Mile run
Pacer Test
Curl-ups
Push-ups
Sit and reach
Special events with the BRC program: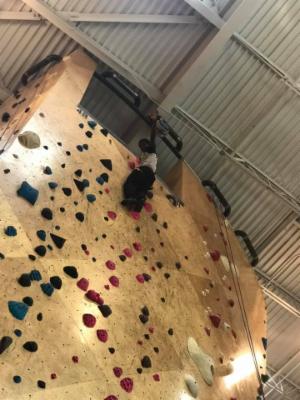 Students enrolled in our BRC program participate in outings with Chicago Voyagers, whose mission is "Empowering at-risk youth through outdoor experiential adventures that foster healthy relationships and responsible behavior." Once a month, students attend field trips that build confidence by challenging them to step out of their comfort zones and try new things. Last month's activity was rock climbing at Brooklyn Boulders Chicago (pictured above).
Past outings with Chicago Voyagers include:
Teambuilding activities
Canoeing
Rock climbing
Upcoming programs include:
Special thanks to:
Special education teacher Maggie Lamb: Lamb runs the BRC program and is responsible for the daily education of students in the classroom. She also plans the wonderful field trips with Chicago Voyagers for students.
Social Worker Irene Mason and Guidance Counselor Kim Mikesell: Mason and Mikesell not only tend to students' emotional needs, but they are actively involved in each student's education as well.
Teacher Aide Jibril Jones: Jones is highly respected by ACHIEVE and BRC students. He attends and actively participates in the field trips with Chicago Voyagers.
Outstanding Student of the Quarter: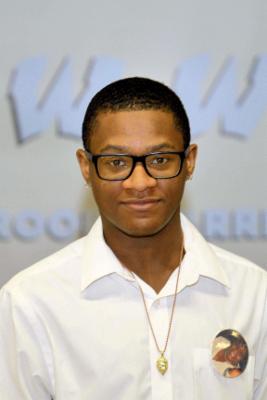 The Willowbrook Physical Education Department also is excited to announce junior Jeremiah Simmons (pictured above) as the department's Outstanding Student of the Quarter. Simmons was recognized, along with his peers from other departments, during a breakfast on Feb. 14. Simmons said his favorite activity is basketball, and he enjoys learning new skills through PE class.
"What I like about PE is it keeps me active and brings out the best in me," Simmons said. "PE makes me feel like a leader."