Willowbrook names October recipient of 88's Best recognition
This video may take up to a minute to start after click the play button depending on your connection speed and browser.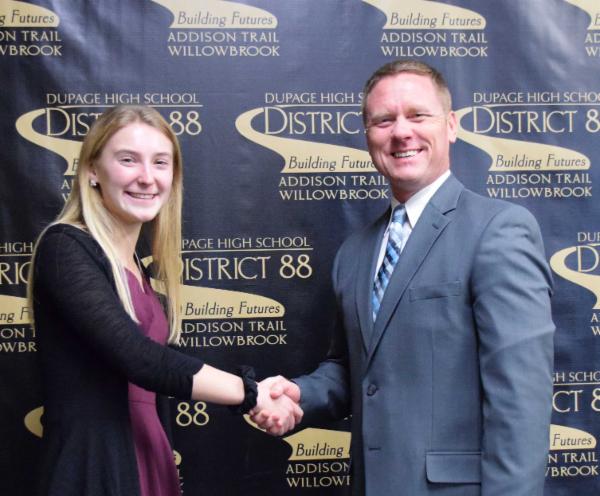 Pictured is Willowbrook senior Melissa Florey, who has been named as the school's October recipient of 88's Best recognition. She's pictured with Willowbrook Principal Dr. Daniel Krause.
Melissa Florey has been named as Willowbrook's October recipient of 88's Best recognition for her outstanding academic accomplishments. Florey, a senior, was recognized during the Oct. 29 District 88 Board of Education meeting. To watch Florey's 88's Best presentation, click the video above.
As a student, Florey consistently pursues the most rigorous courses available at Willowbrook. At the conclusion of her high school career, she will have completed 12 Advanced Placement (AP)/college-level courses, as well as a multitude of Honors courses. Florey is an AP Scholar with Distinction and a Commended Student in the 2019 National Merit Scholarship Program. She has been named to the Distinction Honor Roll each semester of her high school career as well. Florey has earned State Commendation toward Biliteracy recognition and is an inductee of National Honor Society, Tri-M (Modern Music Masters) Honor Society and Civitas (Willowbrook's Social Studies Honor Society), as well as the Math, English and World Language honor societies.
Beyond the classroom, Florey further commits her time and talents to a variety of events, clubs and activities at Willowbrook. She is Secretary of the Senior Class, a member of the Wind Ensemble and participates on the soccer, cross-country and track teams. Florey also gives back to others by serving as a coach for Special Olympics Basketball, a Student Ambassador, a New Beginnings Leader and a Relay For Life participant. She is a member of Student Council, Blue Crew and Varsity Athletic Club as well. Beyond Willowbrook, Florey can be found volunteering at local summer camps and at Elmhurst Hospital.
"Florey embraces every single class with enthusiasm, a positive attitude and the ability to persevere through challenging problems," said Elizabeth Zwart, Willowbrook math teacher. "Florey stands out to me as a student who literally shows excitement when learning new math concepts and grit in problem-solving. She would check in an incorrect answer sometimes and immediately go back to her team to try a new solution path. Florey's ability to push herself constantly will help her succeed in her future."
Willowbrook social studies Department Head Pete Montgomery agreed.
"Florey is driven to succeed in all things she challenges herself with," Montgomery said. "In athletics and academics, she sets her sights on achieving at the highest levels, and she works incredibly hard to get there. While she is striving for success, she is never without a smile and a genuine care for others. Florey is an outstanding Willowbrook Warrior!"
Clyde Ware, Willowbrook physical education teacher and head coach of the Girls Cross-Country Team and the Girls Track Team, said Florey's care for others is what makes her stand out.
"Florey is extremely positive, diligent and compassionate," Ware said. "She has always put the well-being of her family, friends and anyone in need before her own. Florey's demeanor and focus have been instrumental to her success and the success of her teammates, and it has been an honor to work with her."
Florey plans to apply to Boston College, The University of Iowa, University of Minnesota and Marquette University, and she looks to pursue a career in nursing.
District 88 values the hard work and achievements of students and wants to make sure students are honored and recognized for their accomplishments. The District 88 Board of Education and administration created the 88's Best award to highlight students' success. That award recognizes nine Addison Trail and nine Willowbrook seniors each school year for reaching their personal best in various areas. Recipients are honored during a District 88 Board of Education meeting in one of the following areas: academics, highly improved performance, extracurricular activities, service work or performing arts/electives. They receive an 88's Best glass sculpture and a certificate to a local restaurant.