Counseling Corner: Willowbrook Guidance Department provides tips and assistance for students during college application process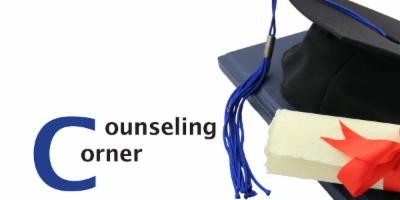 Members of the class of 2019 are immersed in the college application process, and the Willowbrook Guidance Department is assisting those senior students with completing and submitting their college applications. More than 1,200 applications have been started to nearly 300 colleges! As part of the school's focus on helping students with their post-high school plans, the department provides several tips to guide seniors through the college application process.
Application platforms – Direct to Institution, Common Application (www.commonapp.org) and Coalition Application (www.coalitionforcollegeaccess.org): Students have several options when it comes to how they submit their application. A popular choice is the Common Application, as more than 750 colleges and universities are members, which allows students to submit a single application to any of the member institutions. The Coalition Application is a newer platform accepted by more than 100 colleges and universities. There also are university-specific application systems such as the University of California (UC) system, which is used if students are applying to any schools in the UC system. Schools often have supplemental essays or information that need to be submitted as well, so it's critical students manage their applications individually to ensure they submit all required components before the application deadline.
Naviance: Family Connection from Naviance is a web-based service designed especially for students to help make decisions about colleges and careers. Family Connection is a service we use in the Guidance Office to track and analyze data about our students' college and career plans. Senior students use Naviance to search for and apply to colleges. They also use this program to submit and track transcript and letter of recommendation requests.
Components of the application – Essays, letters of recommendation and test scores: Essays are often the most challenging piece of the college application, as this component allows students to speak on their experiences and tell their story. Essays usually have a word count and require students to discuss specific topics or answer specific questions. Students might have one essay or multiple, depending on the institution requirements. With letters of recommendation, students should seek recommenders who can comment on their academic abilities, as well as their personal qualities or story. Test scores required for admission should be sent directly from the testing agency. Students who would like their test score added to their transcript should see the registrar to complete a form.
Application fees: Application fees range from free to $75. Students who receive free or reduced lunch qualify for application fee waivers. They should see their counselor to process their applications.
Deadlines – Early Decision, Early Action, Regular Decision, Rolling Admission: Early Decision (binding decision) and Early Action (not-binding decision) deadlines are usually in early November. Students who apply under these deadline dates express their interest in attending specific institutions and usually receive responses sooner than students who apply under Regular Decision. It is extremely important for students to follow the application deadlines, as any component submitted after the deadline could impact their application and admission status. While there is no deadline to apply through Rolling Admission, colleges and universities will continue to process applications as they arrive and accept applications as space allows.
Students should continue to visit college campuses, complete the Free Application for Federal Student Aid (FAFSA) form at https://studentaid.ed.gov/sa/fafsa and search and apply for scholarships. May 1 is National College Decision Day, so students have time to make their final decision. Students are encouraged to continue working with their counselor through this process and are invited to attend college application assistance during Warrior Time on Wednesdays (through Nov. 15) in the College and Career Center.
The Guidance Department also encourages parents/guardians and students of the class of 2019 to join the department's Remind account to receive updates and notifications of deadlines, scholarship information and more. To join, text @e3gb9 to 81010.