Warrior Wellness: An inside look at Willowbrook's freshmen and sophomore physical education classes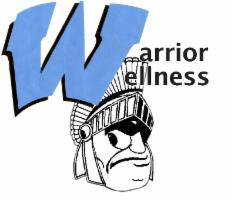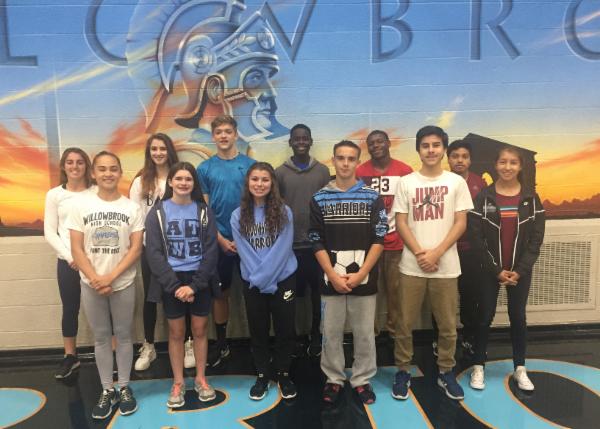 Pictured are Willowbrook freshmen and sophomores who have earned top scores on their fitness results. They are (back row, from left) Grace Tumilty, Natalie Litton, Sean Kramer, Caleb Bullock, Joshua Brown, Marco Oliveros, (front row, from left) Mya Griesbaum, Regina Brisbois, Madlynn Hoffman, Alexander Kuban, Tawfic Elghor and Melissa Martinez. See a complete list of top-scoring freshmen and sophomores below.
Willowbrook students are working hard every day to become more educated with their health and wellness, and we are thrilled to showcase those accomplishments through this monthly column. In this month's edition of Warrior Wellness, we are excited to highlight our freshmen and sophomore physical education classes.
Freshmen began the year with fitness testing to determine baseline data regarding their personal fitness levels upon entering high school. Each student participated in five tests to provide them with information regarding their health-related fitness level. Those five areas are curl ups, the mile run, the Progressive Aerobic Cardiovascular Endurance Run (PACER), push-ups and the sit and reach. The tests will be repeated at the end of the semester to determine improvement and growth.
Freshmen also cover the five components of health-related fitness when they are in the classroom on Fridays. They recently completed unit 1, where they learned about the heart muscle, how to take their pulse, the difference between resting heart rate and target heart rate and blood pressure – and they even took their own blood pressure during class. Our first activity was soccer, and we are now moving on to volleyball.
Sophomore physical education classes also started their year with fitness testing. After looking at their pre-test data, students have set goals for each test, which they plan to reach by the end of the semester. Sophomores are in the classroom on Mondays and have been learning about skill-related fitness components and the different stages of their target heart-rate zone. Our first activity was tennis, and we will continue to stay outdoors for flag football.
Below are the top freshmen and sophomore fitness results.
Outstanding Freshmen Fitness Results
Adrian Borroto: 6:11 mile run
Mya Griesbaum: 6:51 mile run
Alexander Kuban: 100 PACER
Tawfic Elghor: 92 PACER
Mya Griesbaum: 73 PACER
Joshua Brown: 41 pushups
Alexavier MontesDeOca: 41 pushups
Mya Griesbaum: 30 pushups
Madlynn Hoffman: 30 pushups
Gianna Bartuch: 19 sit and reach
Regina Brisbois: 19 sit and reach
Melanie Diaz: 19 sit and reach
Outstanding Sophomore Fitness Results
Sean Kramer: 5:52 mile run
Melissa Martinez: 6:57 mile run
Caleb Bullock: 111 PACER
Andrew Rugg: 111 PACER
Grace Tumilty: 100 PACER
Marco Oliveros: 41 pushups
Natalie Litton: 20 sit and reach
Caytlyn Militello: 20 sit and reach
The Warrior Wellness column provides an inside look into the physical education, health and driver education classes at Willowbrook. This feature will highlight what students are working on in the classroom, as well as student successes in those departments. The column will run on the first Friday of each month during the school year.