Warrior Wellness: An inside look at Willowbrook's Dance and Aerobic Activities class and highlights from physical education end-of-year events
Willowbrook students are working hard every day to become more educated with their health and wellness, and we are thrilled to showcase those accomplishments through this monthly column.
In this month's edition of Warrior Wellness, we are proud to highlight our Dance and Aerobic Activities classes. Throughout the semester, our curriculum centered on improving general fitness and developing our own choreography. The students started out with some intense Zumba workouts. We concluded that unit by students creating their own Zumba routines, where they led their peers in a student-driven workout. Their creativity, in combination with fitness, pushed us into our target heart-rate zones and made for a fun workout!
Next, the class explored a variety of dance styles and researched their origin and popular moves and dances. That unit concluded with students selecting a genre and choreographing a routine, which was then performed for the class. Styles represented included Latin, hip-hop, jazz and swing.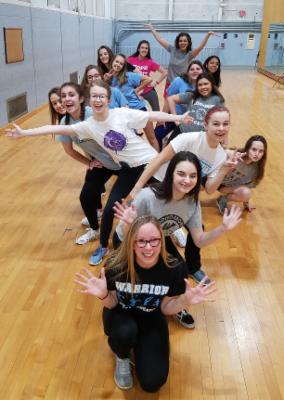 Willowbrook students perform a jazz number to "The Nicest Kids in Town" from the musical "Hairspray."
The juniors and seniors have finished their fitness tests, and our Dance students have excelled in all areas. Some of our top performers include seniors Shannon Frank, Ashley Wright, Lindsey Joyce and Alex Gulotta. Way to go, ladies!
Pictured are Willowbrook Dance students (from left) Alex Gulotta, Shannon Frank, Ashley Wright and Lindsey Joyce, who are top fitness performers/seniors and rank in the top 10 percent of their class with their fitness test score.
We ended the month of April with our Yoga unit, our 5th annual physical education department Student Wellness Day (read more about that event at https://www.dupage88.net/site/page/8195) and the all-school Volleyball Tournament (see photos from the tournament at http://www.dupage88.net/WBVolleyball2017-18).
Thank you for a tremendous 2017-18 school year, and we'll be back with our monthly Warrior Wellness column starting on Sept. 7!
The Warrior Wellness column provides an inside look into the physical education, health and driver education classes at Willowbrook. This feature will highlight what students are working on in the classroom, as well as student successes in those departments. The column will run on the first Friday of each month during the school year.