Willowbrook Student Council hosts blood drive for LifeSource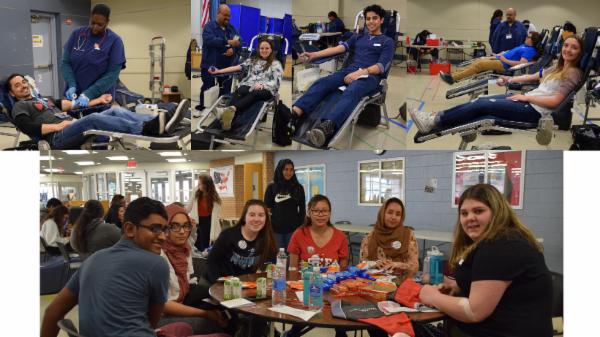 Top: Willowbrook staff and students participate in a blood drive on April 6 at the school. They are (from left) Willowbrook social studies teacher Ivan Jimenez, senior Lindsey Joyce, junior Esteban Saenz and junior Hope Rickord. Bottom: Willowbrook students enjoy snacks after donating blood.
On April 6, nearly 130 Willowbrook students, staff and community members participated in a blood drive at the school to donate blood for LifeSource.
The blood drive was hosted by Willowbrook's Student Council, and 106 units of blood were collected. According to LifeSource, each unit of blood collected supports three lives, which means this event could help save 318 lives.
Students, staff and community members are welcome to continue giving toward Willowbrook's total at the Villa Park donor center at 100 E. Roosevelt Road. Donors should use code 530C.
For participating in blood drives, LifeSource presents Willowbrook and its sister school, Addison Trail, with a check that goes toward scholarships for District 88 students.