Willowbrook names April recipient of 88's Best recognition
This video may take up to a minute to start after click the play button depending on your connection speed and browser.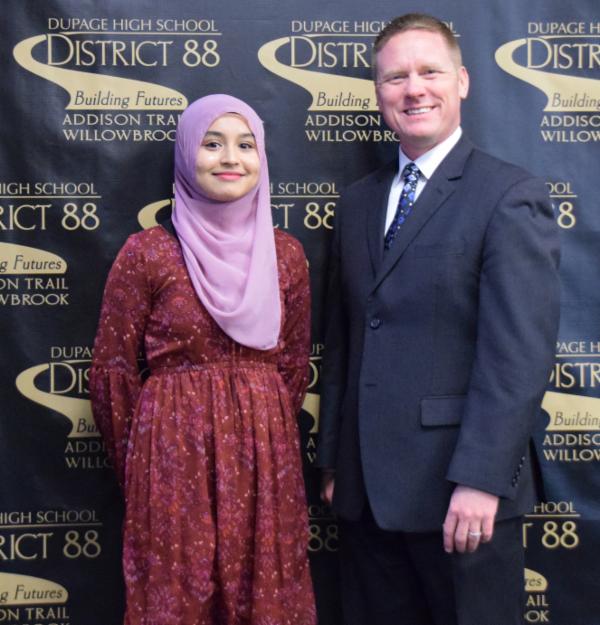 Pictured is Willowbrook senior Syeda Lubna Shah, who has been named as the school's April recipient of 88's Best recognition for her outstanding academic accomplishments. She's pictured with Willowbrook Principal Dr. Daniel Krause.
Syeda Lubna Shah has been named as Willowbrook's April recipient of 88's Best recognition for her outstanding academic accomplishments. Shah, a senior, was recognized during the April 9 District 88 Board of Education meeting.
As a student, Shah consistently pursues the most rigorous courses available at Willowbrook. At the conclusion of her high school career, she will have completed 12 Advanced Placement (AP)/college-level courses, as well as a multitude of Honors courses. Shah has been recognized as a Commended Student in the 2018 National Merit Scholarship Program and as an AP Scholar with Distinction. She also has been named to the Distinction Honor Roll each semester of her high school career. Shah is an inductee of Willowbrook's National Honor Society, National English Honor Society, Civitas (the school's Social Studies Honor Society), Math Honor Society and World Language Honor Society.
Beyond the classroom, Shah is an active member and leader within Willowbrook's academic and extracurricular programs. She competes and participates in Science Olympiad, Mock Trial, Muslim Student Association, Model United Nations, Student Council and Key Club. Shah serves as a Student Ambassador to assist students who transfer to Willowbrook, as well as a New Beginnings Mentor for freshmen as they transition to high school. She also is a student assistant in the Library Media Center and volunteers regularly at Advocate Good Samaritan Hospital.
"Shah is the model of an ideal student," said Katherine Strand-Carroll, Willowbrook World Language Department Head. "She is considerate, kindhearted, hardworking, eager to participate, meticulous and curious. She thinks outside of the box and strives for excellence in all of her work. She is not only naturally bright, but has a work ethic that can take her anywhere she wants to go in life. It has been a pleasure to teach her the past two years in Spanish."
Willowbrook social studies teacher Maritza Francisco agreed.
"Shah is an amazing young lady, whom I have had the pleasure of knowing since her freshman year!" Francisco said. "She has a smile on her face every day! She is driven and focused on excelling in all her classes, while keeping a positive attitude no matter what is going on. Shah has managed to acculturate herself to American culture and weave her own culture seamlessly. She is proud of her family and traditions and is proud to be a Willowbrook Warrior! No matter what the challenge, she is ready and willing to overcome the obstacles to reach her goals!"
Willowbrook English Department Head Brett Blair said Shah's passion for and dedication to learning are what make her stand out.
"Shah was an absolutely stellar component of our third-period AP Lit class," Blair said. "She thoughtfully and brilliantly would add to discussions. Her concise, creative and fluid writing was a perfect gauge for the rest. I know Shah will continue to think critically and thoughtfully in the future, and I hope every road she chooses is a successful one."
Shah plans to continue her education at Loyola University Chicago or The University of Illinois at Chicago to study neuroscience and psychology. She looks to attend medical school, so she can serve others as a physician.
"Shah is a phenomenal student and such a wonderful person," said Willowbrook social studies teacher Chuck Sheridan. "She's an absolute joy to have in class, with a great sense of humor and always one of the most prepared and hardest-working students in the classroom. In Mock Trial, I could always count on Shah to come prepared and to be a true leader for the team – always encouraging others and showing them the way it 'should be done' through her hard work and confidence. She's a fantastic young woman, and I look forward to hearing wonderful things about Shah in the future!"
District 88 values the hard work and achievements of students and wants to make sure students are honored and recognized for their accomplishments. The District 88 Board of Education and administration created the 88's Best award to highlight students' success. That award recognizes nine Addison Trail and nine Willowbrook students each school year for reaching their personal best in various areas. Recipients are honored during a District 88 Board of Education meeting in one of the following areas: academics, highly improved performance, extracurricular activities, service work or performing arts/electives. They receive an 88's Best glass sculpture and a certificate to a local restaurant.