Willowbrook hosts National Letter of Intent Signing Day
This video may take up to a minute to start after click the play button depending on your connection speed and browser.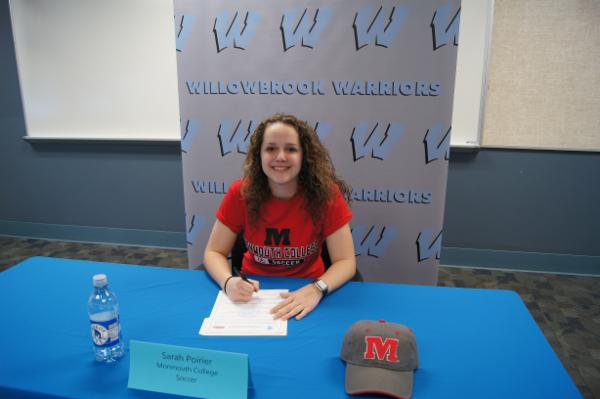 Pictured is Willowbrook senior Sarah Poirier, who signed a National Letter of Intent on Feb. 7 to play soccer at Monmouth College.
On Feb. 7, Willowbrook hosted a National Letter of Intent Signing Day for senior Sarah Poirier, who has committed to play soccer at Monmouth College. She will be a Center Midfielder for the Women's Soccer Team.
Poirier celebrated with teammates, friends, administrators, staff members and family members. She has been a four-year varsity player for the Warrior girls soccer program and has been honored multiple times for her efforts on the field. She was named as the Senior Captain of the Willowbrook Girls Soccer Team this year and received the Willowbrook Soccer Hustle Award in 2016. She also is a four-time Captain for her travel team, Firebirds Soccer Club, where she is a three-time MVP Award recipient as well.
Poirier has been playing soccer for 14 years and said the camaraderie of the sport is what makes her want to continue at the collegiate level.
"Soccer has been in my life for as long as I can remember," Poirier said. "It has always been something I've enjoyed and had a passion for. I've been very fortunate and blessed to have such amazing coaches and teammates, who have shown unconditional support and love, which has only heightened my love for the game. I couldn't imagine not playing soccer next year. To me, not playing in college was never a feasible option. Being with a group of girls who you can call your sisters and being a part of such a fun, caring and competitive environment makes me never want to stop playing."
Poirier plans to major in biology, minor in psychology and follow the pre-med track at Monmouth College.
To watch Poirier's National Letter of Intent signing, see the video above. Feb. 7 was a National Letter of Intent Signing Day.