Warrior Wellness: Willowbrook physical education and health highlights from first semester and second-semester announcements
Willowbrook students are working hard every day to become more educated with their health and wellness, and we are thrilled to showcase those accomplishments through this monthly column.
This month, we are excited to share successes of our junior and senior students from first semester, as well as what we are currently doing in class. See all the achievements below!
First-semester highlights and fun facts:
54 percent of students enrolled in a physical education class earned an "A" grade for the semester. Way to go, Warriors!
85 percent of students who took their fitness tests improved their scores by at least 3 percent.
The top three male and top three female fitness test performers from our junior and senior classes are pictured below. They are (from left) senior Cornelius Paxton Jr., senior Lydia Bauernfreund, senior Steven Cerda-Sanchez, senior Briana Jones, senior Michael Isaacson and junior Victoria Palma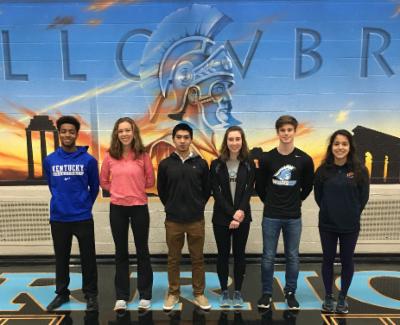 Second-semester announcements and upcoming events:
On Feb. 15, every Willowbrook student who has parental permission will be provided with a free heart screening from Young Hearts for Life. Through that program, students are able to get free electrocardiograms (ECGs) to identify those who are at risk for heart conditions. We highly encourage parents/guardians to register their student for this event now, and you can sign up at www.dupage88.net/YH4L2018. We also need volunteers to help run this event, and you can see details and register to be a volunteer at www.dupage88.net/YH4L2018. We also would like to thank Edward-Elmhurst Health for sponsoring this event.
Leadership Training students are starting to teach lessons to their peers in preparation of being Senior Leaders for underclassmen courses.
Juniors were recently trained in performing CPR and using an automated external defibrillator (AED) (pictured below)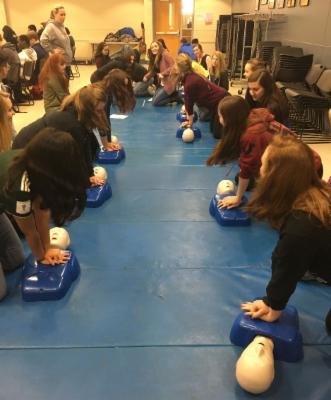 Have a great February, and be sure to look for our next Warrior Wellness column on March 2!
The Warrior Wellness column provides an inside look into the physical education, health and driver education classes at Willowbrook. This feature will highlight what students are working on in the classroom, as well as student successes in those departments. The column will run on the first Friday of each month during the school year.