Willowbrook names January recipient of 88's Best recognition
This video may take up to a minute to start after click the play button depending on your connection speed and browser.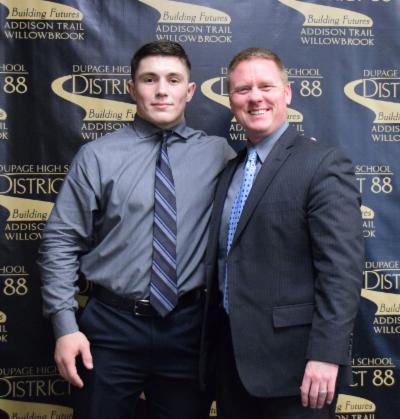 Pictured is Willowbrook senior Jack Jessen (left), who has been named as Willowbrook's January recipient of 88's Best recognition. He's pictured with Willowbrook Principal Dr. Daniel Krause.
Jack Jessen has been named as Willowbrook's January recipient of 88's Best recognition for his stellar involvement in extracurricular activities. Jessen, a senior, was recognized during the Jan. 29 District 88 Board of Education meeting. To watch Jessen's 88's Best presentation, click the video above, or go to https://www.dupage88.net/site/page/7962.
As a student, Jessen consistently pursues the most rigorous courses available at Willowbrook. At the conclusion of his high school career, Jessen will have completed a total of 10 Honors and Advanced Placement (AP)/college-level courses, and he has been recognized as an inductee of National Honor Society, World Language Honor Society and Civitas (Willowbrook's Social Studies Honor Society).
Beyond the classroom, Jessen is an active member of the student body, participating and serving as a leader in Student Council, Blue Crew, football and wrestling. Jessen also volunteers regularly in the community as a coach for youth football and wrestling, as well as assisting with sandbag filling and distribution during recent flooding and supporting his church and various foundations.
Jessen's commitment also is highlighted through his athletic accomplishments. Jessen helped lead Willowbrook's Varsity Football Team to back-to-back Illinois High School Association (IHSA) Quarterfinal appearances, and he has been recognized as a three-time captain of the team. He also has been named as a member of the All-Conference and All-Academic teams in the West Suburban Conference Gold Division and is the 2017 Daily Herald DuPage County Red Grange Football Captain, which means he was selected as captain of the Daily Herald DuPage County All-Area Football Team. He is a two-time Illinois High School Football Coaches Association All-State Team member, as well as a member of the USA TODAY High School Sports 2017 American Family Insurance ALL-USA Illinois Football Team (First Team).
Those football successes would be notable for any student and worthy of recognition, but Jessen also excels in wrestling. He has earned All-State recognition each season of his high school career, been named as a member of the All-Conference and All-Academic teams in the West Suburban Conference Gold Division, earned tournament championships throughout the state and region and was recognized as a national champion this past summer (he won the 182-pound Cadet Greco-Roman U.S. Marine Corps National Championship and earned 2nd place in the Cadet Freestyle National Championship during the USA Wrestling U.S. Marine Corps Cadet & Junior National Championships). He is currently the top-ranked wrestler in the state for his weight class, as well as one of the top-ranked wrestlers in the nation.
Jessen's motto regarding his motivation and accomplishments is simple: "If they are not laughing at your goals, your goals are not high enough," he said.
Willowbrook Guidance Counselor Cindy Zamora-Failla said Jessen exemplifies what it means to be a Willowbrook Warrior.
"Jessen has proven to be a phenomenal athlete, as evident by his performance in football and wrestling," Zamora-Failla said. "Not only is he an excellent athlete, but he also is a great example of what hard work and dedication can do. He is not only a very mature and serious young man, but also a very friendly, real kid. Even though he is an excellent athlete, he does not allow that to get to his head – he always treats others with respect. He is a consistently hardworking student and puts a lot of effort into his academics. I don't know what his parents did, but I would like to know, so I can raise my son like that."
Mike Haussmann, Willowbrook Department Head for physical education and health, agreed.
"Jessen has been a great contributor to the physical education department," Haussmann said. "He has been a top student in our Online Fitness class and has led the way with his work ethic. I also had the opportunity to work with Jessen on the football field early in his career. When working with him, I was very impressed by his acceptance of coaching, his attention to detail and his toughness. Congratulations to a very deserving young man."
Gary Walker, Willowbrook special education teacher and wrestling coach, said Jessen's dedication and internal drive are what make him stand out.
"Jessen is, hands down, the hardest-working student-athlete with whom I've ever worked," Walker said. "He holds himself to the highest standard on a daily basis, both in the classroom and in the athletic arena. I cannot wait to see where his work ethic takes him in this world."
Jessen plans to attend Northwestern University, where he will continue his wrestling career and pursue a degree in economics or a pre-med track.
District 88 values the hard work and achievements of students and wants to make sure students are honored and recognized for their accomplishments. The District 88 Board of Education and administration created the 88's Best award to highlight students' success. That award recognizes nine Addison Trail and nine Willowbrook students each school year for reaching their personal best in various areas. Recipients are honored during a District 88 Board of Education meeting in one of the following areas: academics, highly improved performance, extracurricular activities, service work or performing arts/electives. They receive an 88's Best glass sculpture and a certificate to a local restaurant.