Willowbrook Speech Team presents annual Regional Showcase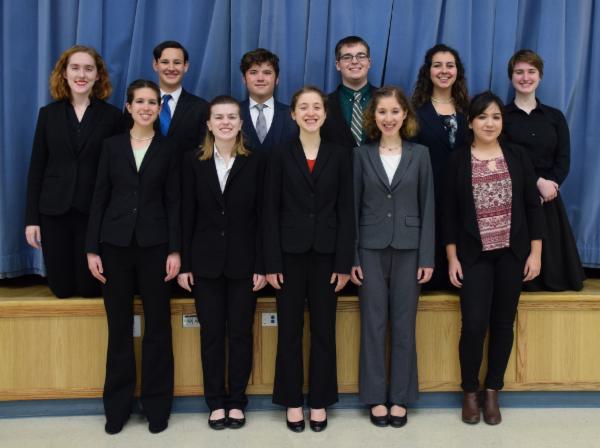 Pictured are members of the Willowbrook Speech Team, who performed during the team's Regional Showcase on Jan. 30. They are (back row, from left) senior Genevieve Corkery, sophomore Vincenzo Ledonne, senior John DeAngelo, senior Ethan Rojek, senior Isabella Ledonne, sophomore Chloe Devens (front row, from left) senior Anna Cuccinotto, junior Sydney Keehner, senior Julia Cicero, senior Kathleen Cicero and sophomore Letisha Sepulveda. The showcase was an opportunity for those students to rehearse in front of an audience in preparation for Willowbrook's Regional event on Feb. 3.
On Jan. 30, 11 members of the Willowbrook Speech Team performed during the school's annual Regional Showcase.
The showcase featured the 14 Speech Team events that will compete in the Regional contest in hopes of qualifying for Sectionals and State. Willowbrook's Regional event will take place on Feb. 3 at Fenton Community High School. Below are the students who will perform in that competition.
Dramatic Duet Acting: Seniors John DeAngelo and Isabella Ledonne
Dramatic Interpretation: Senior Julia Cicero
Extemporaneous Speaking: Sophomore Chloe Devens
Humorous Duet Acting: DeAngelo and sophomore Vincenzo Ledonne
Humorous Interpretation: Senior Genevieve Corkery
Impromptu Speaking: Junior Sydney Keehner
Informative Speaking: Senior Ethan Rojek
Oratorical Declamation: Keehner
Original Comedy: Corkery
Original Oratory: Senior Anna Cuccinotto
Poetry Reading: Sophomore Letisha Sepulveda
Prose Reading: Senior Kathleen Cicero
Radio Speaking: Isabella Ledonne
Special Occasion Speaking: Julia Cicero
"The Regional Showcase is an opportunity for our students to practice their event in front of an audience in a low-pressure environment," said Brett Blair, Willowbrook Speech Team Head Coach and English Department Head. "It also allows our administration, staff, parents/guardians and community members to see firsthand the time and effort these students have given to their performances."