Willowbrook names December recipient of 88's Best recognition
This video may take up to a minute to start after click the play button depending on your connection speed and browser.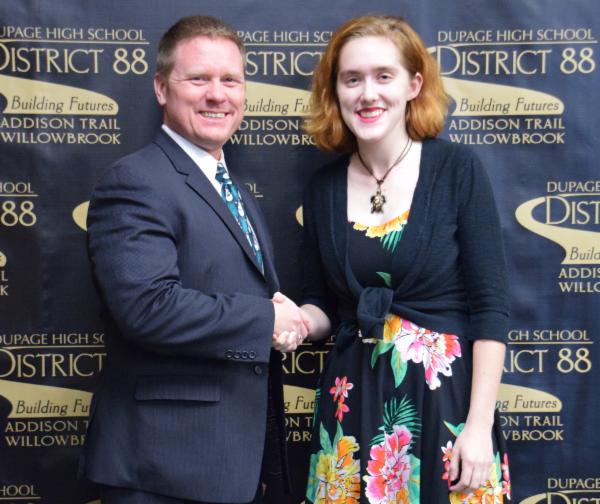 Pictured is Willowbrook senior Genevieve Corkery, who has been named as Willowbrook's December recipient of 88's Best recognition. She's pictured with Willowbrook Principal Dr. Daniel Krause.
Genevieve Corkery has been named as Willowbrook's December recipient of 88's Best recognition for her outstanding academic accomplishments. Corkery, a senior, was recognized during the Dec. 18 District 88 Board of Education meeting. To watch her 88's Best presentation, click the video above.
As a student, Corkery consistently pursues the most rigorous courses available at Willowbrook. At the conclusion of her high school career, she will have completed 10 Advanced Placement (AP)/college-level courses, as well as a multitude of Honors courses. Corkery has been recognized as an AP Scholar with Distinction and a member of the Distinction Honor Roll each semester of her high school career. She also has received the Outstanding Freshman Award and the Human Relations Award and is an inductee of National Honor Society, National English Honor Society, Civitas (Willowbrook's Social Studies Honor Society), Tri-M (Modern Music Masters) Honor Society, Math Honor Society and World Language Honor Society. Corkery serves as Co-President of Willowbrook's Thespian Troupe as well, after serving as Vice President last year.
Beyond the classroom, Corkery is an active member and leader in the school's academic and extracurricular programs. She is involved with Theatre, Band and Choir, as well as Speech Team and Improv Club. Corkery has participated in 10 theatre productions so far in her high school career and has earned Illinois High School Association (IHSA) All-Sectional and All-State cast recognition the past two years. In Band, she has served as Junior Drum Major and Head Drum Major for the Marching Band, earned a Superior rating during the IHSA Solo and Ensemble performance and serves as section leader in the Wind Ensemble. In Choir, Corkery was named to the Illinois Music Education Association (ILMEA) All-District Chorus last year and to the All-State Honors Chorus this year. She also performs as lead vocalist of the Warrior Rock Band and is an active member within the Lyric Opera of Chicago's Youth Opera Council. Corkery is a key member of Willowbrook's Speech Team as well, where she serves as Co-Captain and has been an IHSA Sectional qualifier and finalist.
"On stage, Corkery is a consummate actress, and her creativity is a benefit to every production," said Regina Wathier, Willowbrook Theatre Director and English teacher. "She takes risks; she is flexible and takes direction very well. She possesses a good grasp of stage composition and great instincts. She makes strong choices and thoroughly analyzes her characters. She performs every role with aplomb and with the dedication of a true professional. I could easily call her a character actress, but that would be doing her a disservice. She is wildly talented and one of the most malleable, expressive and dynamic actresses I have worked with in my 20-year career. Too many times to count, she has entered an audition with her character developed, and performance-ready. The bonus is she continues to evolve throughout the rehearsal process. I look forward to seeing what amazing characters she creates for us in the winter and spring shows!"
Willowbrook Speech Team Coach and English Department Chair Brett Blair agreed.
"Corkery is one of the most talented performers I have worked with in my career as a Speech Coach," Blair said. "She is brilliantly creative and masterful in her ability to develop something hysterically perfect. I cannot believe she is graduating already, yet I am proud to have seen her grow into a talent whom we will see on stage again. My only regret is she can only be here for four years."
Music and performing have been important aspects of Corkery's life for as long as she can remember, and she has been a tremendous asset to the music program at Willowbrook.
"Corkery has been a vital part of the music department since her freshman year," said Jan Bobek, Willowbrook Orchestra Director. "She has performed in Choir, full Orchestra, Band, musicals and rock band to name a few. Her talent and dedication always bring every ensemble in which she is a member to the next level, and she is always willing to give as much time as necessary in rehearsal for the group to sound its best. While sharing her talent, she pushes those around her to meet their potential. She truly embodies what it means to be a Willowbrook Warrior musician."
Willowbrook social studies teacher Maritza Francisco said Corkery's positive attitude is what makes her stand out.
"Corkery is an amazing and very talented young lady on and off the stage!" Francisco said. "She always brought a great energy to the classroom and was always at the top of her game in AP Human Geography. She was a true pleasure to have in class and was always able to balance the demands of her extracurricular activities and the rigor of her coursework."
Corkery plans to pursue a double major in musical theater and digital media production to prepare for a career in theatre, film, acting and directing. She plans to attend Tulane University, Albion College or Roosevelt University.
District 88 values the hard work and achievements of students and wants to make sure students are honored and recognized for their accomplishments. The District 88 Board of Education and administration created the 88's Best award to highlight students' success. That award recognizes nine Addison Trail and nine Willowbrook students each school year for reaching their personal best in various areas. Recipients are honored during a District 88 Board of Education meeting in one of the following areas: academics, highly improved performance, extracurricular activities, service work or performing arts/electives. They receive an 88's Best glass sculpture and a certificate to a local restaurant.