Willowbrook art and English students collaborate on children's books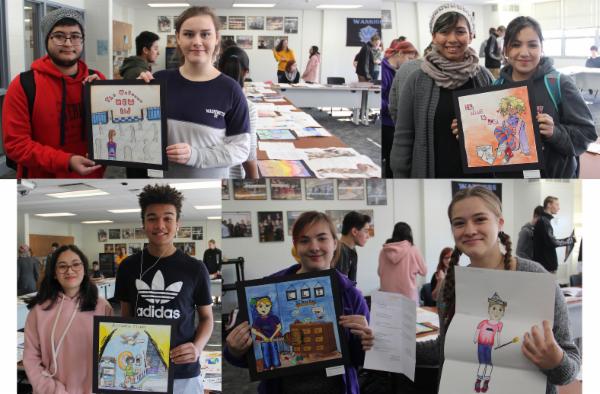 Willowbrook Creative Writing students recently wrote children's stories, and Cartooning and Animation students designed cover artwork for those "books." Several groups are pictured above with their cover. Top left: Author senior Rafael Olaguez and illustrator freshman Allison Roy. Top right: Illustrator sophomore Valentina Giron (left) and author sophomore Letisha Sepulveda. Bottom left: Author junior Josie Lopez and illustrator sophomore Michael Horton II. Bottom right: Illustrator freshman Annika Schramek (left) and author sophomore Elizabeth McBride.
About 46 students in Willowbrook Art Department Chair John Epple's Cartooning and Animation class and English teacher Regina Wathier's Creative Writing class recently collaborated on a project.
Earlier this year, Wathier's students shared their favorite children's books and analyzed the plot and characters to examine the framework and elements of that genre. They then wrote their own children's stories on a variety of topics. Artists in Epple's class then created covers for those "books" based on the theme and the description of a main character.
Those covers were revealed on Dec. 12, when the authors saw the illustrations for the first time. Several covers were selected to be featured in the Student Art Show, which will be displayed through Dec. 20 at Funky Java Coffee House in Villa Park.