Willowbrook names September recipient of 88's Best recognition
This video may take up to a minute to start after click the play button depending on your connection speed and browser.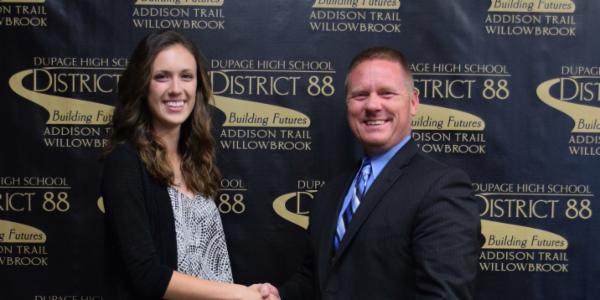 Pictured is Willowbrook senior Shannon Frank, who has been named as Willowbrook's September recipient of 88's Best recognition. She's pictured with Willowbrook Principal Dr. Daniel Krause.
Shannon Frank has been named as Willowbrook's September recipient of 88's Best recognition for her outstanding academic accomplishments. Frank, a senior, was recognized during the Sept. 25 District 88 Board of Education meeting. To watch her 88's Best presentation, go to https://www.dupage88.net/site/page/7723 (or click the video above).
As a student, Frank consistently pursues the most rigorous courses available at Willowbrook. At the conclusion of her high school career, Frank will have completed 10 Advanced Placement (AP)/college-level courses, as well as a multitude of Honors courses. Frank also has been recognized as an AP Scholar with Honors and a member of the Distinction Honor Roll each semester of her high school career. She was honored with an Outstanding Freshman Award and serves as Secretary of the National Honor Society and President of Willowbrook's Social Studies Honor Society, Civitas. Frank is an inductee of the National English Honor Society, Math Honor Society and Tri-M (Modern Music Masters) Honor Society as well.
Beyond the classroom, Frank is an active member and leader within Willowbrook's extracurricular programs. She is part of Blue Crew and Varsity Athletic Club to promote school spirit and pride and has served as a New Beginnings mentor, supporting freshmen in their transition to high school. Frank also is a contributing member of the Principal Leadership Team and has been a liaison for students visiting from China.
Frank has further demonstrated her skills and talents through Willowbrook's athletic and music programs. She has competed in Badminton and performed as a member of the Varsity Poms Team. Frank is a member of the Willowbrook Marching Band as well and is the Principal Chair trumpet player in the Wind Ensemble, earning recognition as an Illinois Music Education Association (ILMEA) All-District musician last year.
"Frank has been an excellent member of Orchestra, performing in concerts and school events, and she has exemplified what it means to be a true Warrior musician," said Jan Bobek, Willowbrook Orchestra Director. "Always preparing her music to perfection, Frank brings the level of any music group she is a part of to new heights. As a soloist and an ensemble member, Frank has contributed a great deal to the Willowbrook Music Department."
Frank further exemplifies her character through her service to others. She has participated in and led her team at Relay For Life each year of high school, supported youth reading programs at Helen Plum Library in Lombard and volunteers at Advocate Good Samaritan Hospital in the pediatric and neonatal intensive care units.
"Frank is a fantastic mathematician, whose dedication to her own excellence is apparent every single day," said Liz Zwart, Willowbrook math teacher. "She exudes a thirst for knowledge constantly. Frank pushes herself to excel and asks deep questions to confirm her own understanding. On a more personal note, Frank is a genuine, kind and mature young woman, whose ability to work with absolutely anyone will make her a success in life."
Brett Blair, Willowbrook English Department Chair, agreed.
"Frank is an amazing example of an 88's Best student," Blair said. "She is hardworking, dedicated, creative and truly talented. I am always proud to call upon her when she has something to offer regarding analysis and discussion of a text under study. I look forward to continuing to work with Frank throughout this academic year."
Willowbrook science teacher Eastman Tiu said Frank's ability to serve as a mentor for her peers is what makes her stand out.
"Frank was a consistent leader in AP Physics, often taking that role in her lab group, while listening to and learning from collaboration with her peers," Tiu said. "She showed excellent mental toughness as the course progressively became more challenging."
Frank is excited to continue her education and drive for success in college, and she plans to apply to Miami University in Ohio, Saint Louis University and University of Wisconsin-Madison to pursue a degree in physical therapy.
District 88 values the hard work and achievements of students and wants to make sure students are honored and recognized for their accomplishments. The District 88 Board of Education and administration created the 88's Best award to highlight students' success. That award recognizes nine Addison Trail and nine Willowbrook students each school year for reaching their personal best in various areas. Recipients are honored during a District 88 Board of Education meeting in one of the following areas: academics, highly improved performance, extracurricular activities, service work or performing arts/electives.