Eleven Willowbrook students to compete in DECA State competition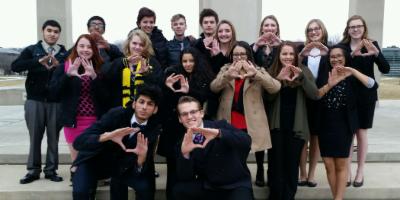 Eleven Willowbrook students have qualified for the DECA State competition, which will take place from March 9 to 11 at the Hyatt Regency O'Hare hotel in Rosemont.
DECA is a competitive club that prepares future leaders and entrepreneurs for careers in marketing, finance, entrepreneurship, hospitality and business management. For more information about DECA, go to www.deca.org.
The students who qualified for State are:
Senior Anthony Clampit: Hotel and Lodging Management Series
Sophomore Kianna Becker: Human Resources Management Series
Sophomore James Michael: Principles of Business Management and Administration
Sophomore Sabrina Edwards: Principles of Business Management and Administration
Junior Sheharyar Ahmed: Principles of Finance
Senior Amy Monterroso: Principles of Hospitality and Tourism
Freshman Jack Carey: Principles of Hospitality and Tourism
Junior Alyssa Lavery: Principles of Marketing
Junior Catherine Pegler: Principles of Marketing
Written Event qualifiers are:
Becker: Advertising Campaign
Lavery and junior Elikajane Mendiola: Innovation Plan
Clampit: Start-up Business Plan
Junior Catherine Carey: Start-up Business Plan