Willowbrook names January recipient of 88's Best recognition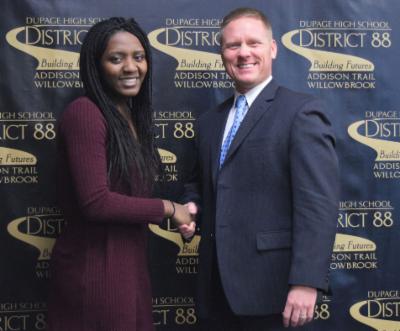 Kyla Denwood has been named as Willowbrook's January recipient of 88's Best recognition for her stellar involvement in extracurricular activities. Denwood, a senior, was recognized during the Jan. 30 District 88 Board of Education meeting. To watch Denwood's 88's Best presentation, go to https://www.dupage88.net/site/page/6276.
Denwood is a proven leader in and out of the classroom as a student, as an athlete, as a musician and as a role model. She has a tremendous record of academic and extracurricular achievements, as well as a proven record of leadership and commitment to success. As a student, Denwood consistently pursues the most rigorous courses available at Willowbrook. At the conclusion of her high school career, she will have completed 10 Advanced Placement (AP)/college-level courses, as well as a multitude of Honors courses. Denwood also has been recognized as an AP Scholar with Distinction, as an Illinois State Scholar and as a QuestBridge College Prep Scholar.
Other highlights from Denwood's high school career include being a member of the Distinction Honor Roll each semester, earning the Outstanding Freshman Award, serving as President of the Tri-M (Modern Music Masters) Honor Society and being an inductee of Civitas (Willowbrook's Social Studies Honor Society), the National English Honor Society and the World Language Honor Society.
Beyond the classroom, Denwood demonstrates her leadership through serving as Secretary of Student Council, as a past emcee of Willowbrook's Senior Recognition Assembly and as a reader of the school's daily announcements. She has represented Willowbrook at the West Suburban Conference Leadership Conference, as well as at the Black Student Leadership Conference. Denwood's dedication is further displayed through her involvement with Speech Team, Black Organization for Student Success (B.O.S.S.), Talented African American Leaders Embarking on Their Educational Dreams (T.A.L.E.N.T.E.D.) and Mock Trial.
Denwood also shines in music and athletics. She is a Drum Major of the Willowbrook Marching Band and is Captain of the Girls Track and Field Team. She also is a section leader for Orchestra, has been a member of the Pit Orchestra and has been recognized twice with the "Best of Day Award" at the Illinois High School Association (IHSA) Solo & Ensemble Contest for her flute and ensemble performance. She has been a member of the Girls Basketball Team as well and is a two-time IHSA State qualifier in Track, where she holds the school record in discus.
"Denwood has been an active Student Council member and was elected as a class officer her freshman, sophomore and junior years," said Jamie Gourley, Willowbrook Literacy Department Chair and Student Council Co-Sponsor. "She leads with a quiet, yet powerful manner, which has resulted in a climate of respectful peer interaction. She is an extremely hard worker and has high expectations for herself."
Willowbrook Director of Guidance Dana Whittaker agreed.
"Denwood has done an extraordinary job academically throughout high school since attending Willowbrook as an eighth-grade student taking geometry," Whittaker said. "She continues to be a leader, as she recently presented to staff as a member of B.O.S.S. and T.A.L.E.N.T.E.D."
Denwood looks forward to continuing her education at New York University or Tulane University, where she plans to study international relations.
District 88 values the hard work and achievements of students and wants to make sure students are honored and recognized for their accomplishments. The District 88 Board of Education and administration created the 88's Best award to highlight students' success. That award recognizes nine Addison Trail and nine Willowbrook students each school year for reaching their personal best in various areas. Recipients are honored during a District 88 Board of Education meeting in one of the following areas: academics, highly improved performance, extracurricular activities, service work or performing arts/electives.