Willowbrook Flag Football Team featured on ABC7 and in Bears video, receive special message from Bears head coach
The Willowbrook Flag Football Team recently received some media attention! The group was featured in a video by the Bears to promote flag football and also was part of a segment on ABC7.
In the Bears video (which can be viewed by clicking on the image above or going to https://www.chicagobears.com/video/bears-sponsor-willowbrook-high-school-girls-flag-football-team-at-nike-kickoff-c), Head Coach Matt Eberflus wished the team luck as the Lady Warriors prepared to compete in the Nike Football Kickoff Classic at Nike World Headquarters in Oregon, which took place in August. He also congratulated the team for its successful inaugural season last year, during which Willowbrook won the first Chicago Bears Girls Flag State Championship. Read more about the historic season at https://dupage88.net/site/page/15406. The video also includes interviews with several team members and Coach Rachel Karos, as they discuss their passion for the sport and how its growth has helped girls develop confidence and lifelong skills, as well as gain access to athletic and scholarship opportunities.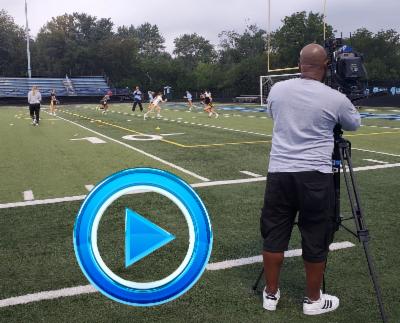 During its Oct. 14 game, the Willowbrook Flag Football Team will join other teams in the West Suburban Conference Gold Division (the West Suburban Gold Plus League) in hosting a food drive. Those in attendance are encouraged to bring canned goods and other food items, which will be donated to a local food pantry. The food drive will take place from 3 to 7 p.m. at Willowbrook's stadium.