Addison Trail names August recipient of 88's Best recognition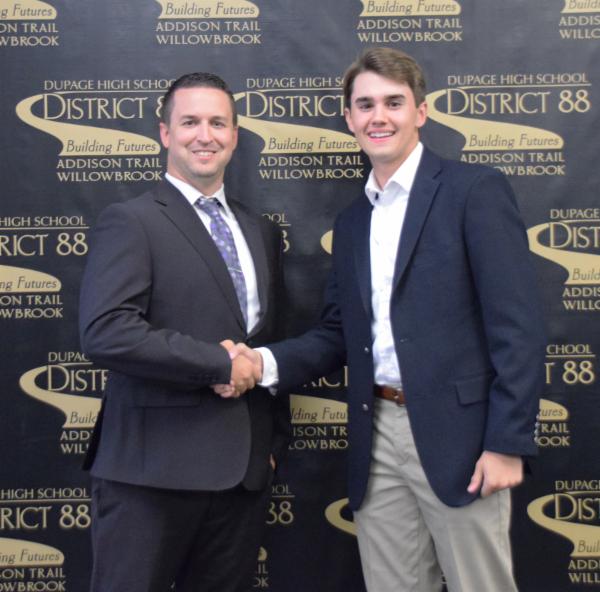 Zachary Morris (pictured at right, with Addison Trail Principal Jack Andrews) has been named as Addison Trail's August recipient of 88's Best recognition for his outstanding academic accomplishments.
Morris, a senior, was recognized during the Aug. 28 District 88 Board of Education meeting. To watch his 88's Best presentation, click on the video above.
Throughout his four years at Addison Trail, Morris has proven to be a great role model for his peers and has spent his high school career balancing all of it with a positive attitude and a contagious Blazer spirit that has had a lasting effect on his teachers and classmates. Morris said he is extremely proud of how he pushed through the second semester of his junior year, as he lost two grandmothers (both of whom were very close to him) during that time.
"I believe everyone is a product of their environment, so I believe my parents are a huge reason for my successes," Morris said. "If it wasn't for my parents' love and support, I would not nearly be the person I am today. My motivation stems from those closest to me. My successes are a collective effort with my friends and family."
Academic and extracurricular achievements:
Ranked at the top of his class
Earned Distinction Honor Roll status each semester of his high school career
Named "Student of the Semester" by the English, social studies and business departments
Involvement at Addison Trail:
Member of National Honor Society (NHS) and has been Board President the past three years
Member of DECA, a competitive club that prepares emerging leaders and entrepreneurs for careers in marketing, finance, hospitality and management; qualified to compete in the DECA International Career Development Conference
Member of Math Team
Member of the Varsity Boys Golf Team and has been Captain since his sophomore year
Member of the Boys Volleyball Team
Volunteer coach with the Special Olympics Basketball Team
Helps coordinate events for the Best Buddies Club (Best Buddies International is a nonprofit 501(c)(3) organization dedicated to establishing a global volunteer movement that creates opportunities for one-to-one friendships, integrated employment, leadership development and inclusive living for people with intellectual and developmental disabilities, or IDD.)
Future plans:
Morris plans to attend "a high-level university." He would like to continue volunteering with the Special Olympics program and stay involved in his community. He also would consider playing golf at the collegiate level, should the opportunity arise.
Staff member comments:
"Morris did such a great job this past year as a peer coach to our Special Olympics Basketball Team. The kids all had so much fun working together and can't wait for the upcoming season. He also has been a wonderful Best Buddy to all the students."
- Jessica Sokolowski, Addison Trail Special Education teacher and Best Buddies Club adviser
"I am excited for Morris' recognition and not at all surprised. It is wonderful to know that Morris' achievements his freshman year on Zoom were only the beginning to his high school academic successes. I remember Morris' consistent dedication in maintaining his grades and for doing whatever was necessary to excel, given our remote learning circumstances. However, what I remember most of all is Morris' infectious smile (yes, I saw it often on Zoom!), kindness and joviality. I wish Morris all the best in his future endeavors."
- Aileen Sullivan, Addison Trail science teacher
"I have had the pleasure of coaching Morris in golf. He is a four-time varsity team member and two-year captain. As a captain, Morris has led the team with honor and integrity – and in the sport of golf, those two things are extremely important. He is a wonderful young man with an amazing personality. Morris is definitely deserving of this honor, and I am excited to see he is receiving it."
- Eric Norberg, Addison Trail math teacher and Head Boys Golf Coach
"Morris is one of those students who enters a teacher's classroom and leaves the sort of impression that won't fade. Not only does he check all the boxes of being a stellar student, including his classroom participation as well as outstanding quiz and test scores, but he shines his warm personality on his teachers and fellow students. There is a genuineness to him that makes all those around him feel seen and cared about. This upbeat and positive nature is a daily occurrence, despite the challenging situations he experienced during his junior year, losing loved ones within his family. He handles adversity and stays true to his best self, which is a model not only for his peers, but an inspiration to his teachers as well."
- Stephen Bruns, Addison Trail English teacher
District 88 values the hard work and achievements of students and wants to make sure students are honored and recognized for their accomplishments. The District 88 Board of Education and administration created the 88's Best award to highlight students' success. That award recognizes nine Addison Trail and nine Willowbrook students each school year for reaching their personal best in various areas. Recipients are honored during a District 88 Board of Education meeting in one of the following areas: academics, highly improved performance, extracurricular activities, service work or performing arts/electives. They receive an 88's Best glass sculpture and a certificate to a local restaurant.