District 88 honors staff members during annual Staff Recognition Dinner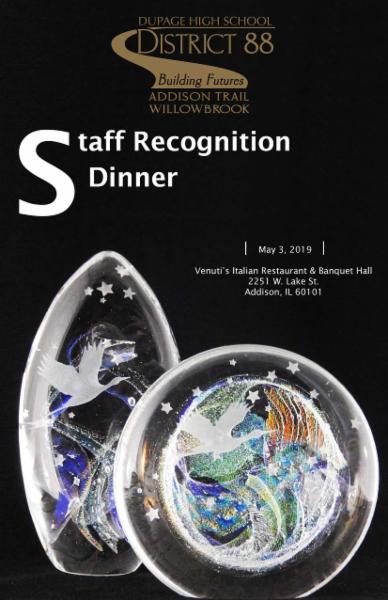 On May 3, District 88 hosted its annual Staff Recognition Dinner, which is an opportunity to honor members of the District 88 family.
During the event, the district recognized 65 individuals who have served District 88 for 10 years or more and have given more than 1,100 years of combined service to students at Addison Trail and Willowbrook. The district also thanked 11 staff members who will retire at the end of this school year and – combined – have given nearly 240 years of service to District 88.
The 2018-19 retirees are:
Addison Trail: Juliann Boudouris, Olga Chavez, Mary Kelsay, Pamela Sifuentes, Rosanne Treccia and Patricia Vendegna
Willowbrook: Veronica Diaz and Janice Kiefer
District Office: Olga Berlina, Lauren Presta and Candace Richardson
District 88 Board of Education President Donna Craft Cain welcomed the crowd, and District 88 Superintendent Dr. Scott Helton gave the closing speech. The Master of Ceremonies was Mark Corey, Addison Trail Music and Art Department Head and Band Director.
The Outstanding Achievement Awards went to Juliann Boudouris (retiring Career and Technical Education (CTE) Department Head) for Addison Trail and Brian Chelmecki (Math Department Head) for Willowbrook. To see the program from the event, with the names of the honorees and bios of the retirees, go to https://www.dupage88.net/site/public/files/?item=4452.