Six District 88 students named as District 88 Art Scholarship recipients
This video may take up to a minute to start after click the play button depending on your connection speed and browser.
During its April 29 meeting, the District 88 Board of Education named six students as recipients of the District 88 Art Scholarship for the 2018-19 school year.

They are sophomore Victoria Ramon, senior Esmeralda Torres and junior Paulina Stachura from Addison Trail (pictured above, from left) and senior Sydney Wilson, junior Andrea Mendoza and senior Danielle Lee from Willowbrook (pictured below, from left). The students' artwork will be displayed in the District 88 Boardroom during the 2019-20 school year.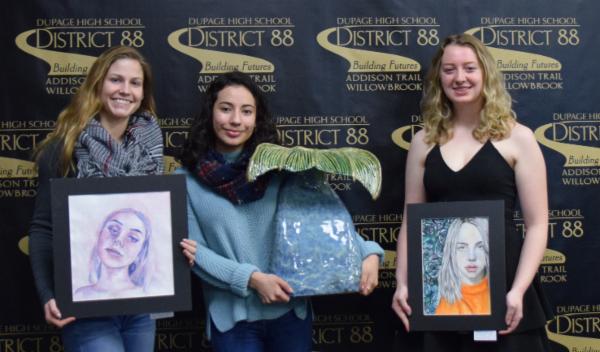 The District 88 Art Scholarship was established to recognize outstanding art students at Addison Trail and Willowbrook. The District 88 administration and Board of Education continue the tradition of supporting the arts and acknowledging the artistic successes of students in the district.
To watch a video of the presentation, click the video above.