District 88 students learn about Scott's Law (the Move Over Law) through driver education course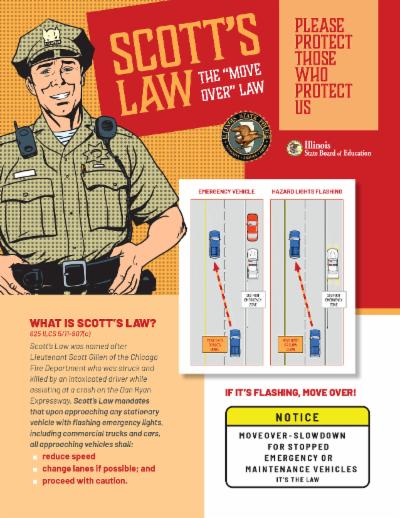 District 88 shares information about Scott's Law, also referred to as the Move Over Law. As of Jan. 1, 2017, the Move Over Law applies to all vehicles that display flashing emergency lights, including commercial trucks and cars; the law is no longer limited to authorized emergency vehicles.
Scott's Law, 625 ILCS 5/11- 907(c), mandates when approaching a stationary authorized emergency vehicle – when the authorized emergency vehicle is giving a signal by displaying alternately flashing red; red and white; blue; or red and blue lights, or amber or yellow warning lights – a person who drives an approaching vehicle shall:
Reduce speed
Change lanes if possible
Proceed with due caution
Scott's Law is named after Lt. Scott Gillen of the Chicago Fire Department, who was struck and killed by an intoxicated driver while assisting at a crash on the Dan Ryan Expressway.
District 88 is helping to ensure students are aware of this law through:
Discussing the law during driver education classes
Having police officers speak with students about this law and why it's important to follow to help ensure the safety of first responders and operators of authorized emergency vehicles
Placing an informational poster in driver education classes (see the poster at http://tinyurl.com/y33fotof)
Having Distress Bandana speak with students about their Teen Driver Safety Program (read more at http://distressbandanna.com)
For more information about Scott's Law, go to https://www.isp.state.il.us/docs/1-163.pdf. To see the full law, go to http://tinyurl.com/y64fp4ha.