District 88 receives donations from Knights of Columbus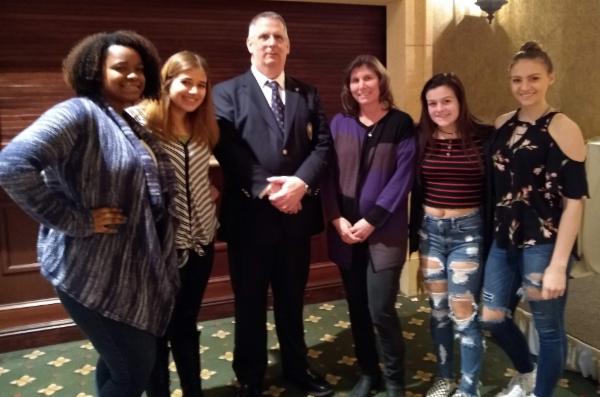 Members of the Addison Trail Best Buddies club receive a donation from Knights of Columbus Damen Hildebrand Council #650 on March 3. Pictured are (from left) Addison Trail junior Alaisia Hunt, junior Victoria Toay, Grand Knight Mike Bruntz, Best Buddies club Sponsor Patty Hochheimer, junior Jessica Burback and junior Julia Swierzb.
On March 3, the Knights of Columbus Damen Hildebrand Council #650 hosted its 48th Annual Awards and Communion Brunch at Medinah Shriners in Addison.
During that event, two District 88 groups were recognized and presented with proceeds from the Addison Knights of Columbus fundraising efforts. The District 88 Transition Program (which helps individuals ages 18 to 21 who have disabilities learn life skills, obtain job training in a community setting and transition to life after District 88) and the Addison Trail Best Buddies club (which creates one-on-one friendships for people with intellectual disabilities) received monetary donations. Best Buddies assisted with the Knight of Columbus Tootsie Roll Drive this past fall, which raises funds to support individuals with disabilities.
For more information about Knights of Columbus, go to www.kofc.org/un/en/index.html.