District 88 shares important update regarding delivery model for instructional technology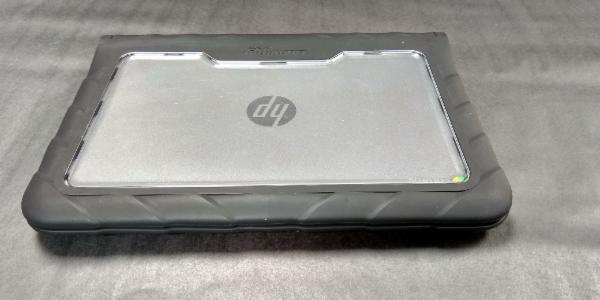 As part of District 88's mission to work for the continuous improvement of student achievement, the district continuously evaluates best practices and models with regard to technology to provide a high-quality learning environment for all students.
The district is excited to provide an update about the new delivery model for instructional technology that was implemented this school year. In November 2017, the District 88 Board of Education approved redirecting funds to provide each freshman (starting with the class of 2022) with a Chromebook (pictured above) for in-school and out-of-school use, beginning this past fall. The district has since re-evaluated this plan to phase in the model (starting with the class of 2022) to ensure the process provides the most cost-effective, efficient and high-quality implementation.
On March 11, the Board approved funds to buy Chromebooks for the class of 2023 and the class of 2021. This funding will be used to provide each student in those two classes with a Chromebook for in-school and out-of-school use, beginning in fall 2019. Members of the class of 2022 will continue to use the Chromebooks they received this year. The district will assign students in the class of 2020 with Chromebooks to use through the end of their senior year.
The fee for the Chromebook device will be divided over four years (a waiver will be offered to qualifying students), which will allow students to own their device after they leave District 88. The class of 2020 will not pay this fee. Underclassmen who leave the district before four years would need to pay the fee difference. Members of the class of 2021 also will be given the option to pay the fee difference and keep their device after they graduate.
Enhancing technology in the classroom provides teachers with more tools to enrich the learning environment for students. Benefits include:
Students increasing their ability to use digital tools, which will help them be better prepared for the ever-emerging digital landscape in college and in careers beyond high school.
Minimizing the "digital divide" within the district, as all students will have access to a device, regardless of accessibility outside of school.
Students being able to access classroom resources at all times while at school, at home or in the community.
Addison Trail and Willowbrook also have six labs each with wired desktop workstations and three laptop carts at each building for specialized curricular areas and specific student needs.
For questions or more information about District 88's delivery model for instructional technology, contact District 88 Director of Technology, Teaching and Learning Dr. Aaron Lenaghan at alenaghan@dupage88.net or 630-782-3133.