District 88 offers Breakfast Grab-and-Go carts for students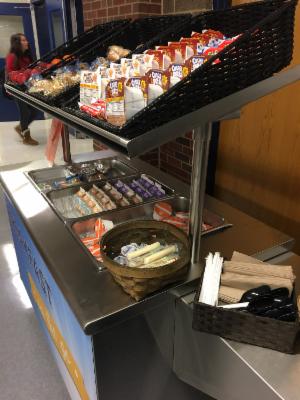 Attention, District 88 students! Addison Trail and Willowbrook are offering carts filled with breakfast items for pupils to enjoy each morning before they begin classes.
The Breakfast Grab-and-Go cart, which is pictured above, is available from 7:15 to 7:45 a.m. on school days and is in the hallway by Blazer Hall at Addison Trail and near the front desk by the main entrance at Willowbrook. This program is a way for students to get fueled up for the day – without having to wait in line in the cafeteria!
As a reminder, students who are part of the National School Lunch Program also qualify to receive breakfast and can participate in this initiative.
For questions or more information, call Addison Trail at 630-628-3300 or Willowbrook at 630-530-3400.