District 88 welcomes two new members to the District Administrative Team
District 88 will welcome two new faces, as Dr. LaTonya Wilks and Ryan Domeracki join the district's administrative team, effective July 1.
Dr. LaTonya Wilks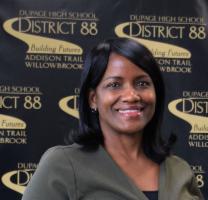 During its June 11 meeting, the District 88 Board of Education approved the administration's recommendation to name Dr. Wilks (pictured above) as the district's new Director of Student Services. Dr. Wilks will succeed Dr. Sam Bentsen in that position, who will serve as the new Assistant Superintendent for Human Resources and Operations at Fenton Community High School. Bentsen joined District 88 in 2006 and served as Director of Deans and Assistant Principal at Willowbrook and as Director of Student Services for the district. District 88 wishes him well in his new role.
Dr. Wilks has been in the field of education since 1999 and has served as an early childhood teacher, a special education teacher, a school counselor, a case manager and a dean of students. She received her associate degree in early childhood education from Moraine Valley Community College; her bachelor's degree, a master's degree in school administration and an endorsement in special education (k-12) from Chicago State University; and a second master's degree in school counseling from Lewis University. She also is certified as a Learning Behavior Specialist I and received a Director of Special Education endorsement. Dr. Wilks earned her doctorate in special education from Nova Southeastern University and is pursuing her Chief School Business Official degree from Concordia University as she works toward her superintendent license.
"I was eager to join District 88, because I am very interested in working in a school district that is committed to community involvement and one that embraces the pivotal role in the inclusion of all children," Wilks said. "I hope to influence the growth and development of all students based on data-driven best practices in education. It is my hope as Director of Student Services that I will provide exemplary educational opportunities to students that lead to academic success."
Wilks lives in Country Club Hills with her husband of 20 years.
"My educational philosophy is based on the belief that all children can learn, but each learns in a different way and at different rates," Wilks said. "I believe with hard work and perseverance, we can touch each child's life in a special way. Keeping the atmosphere positive is the key to success, as well as keeping the lines of communication open among staff, students and parents."
Ryan Domeracki
During its May 14 meeting, the District 88 Board of Education approved the administration's recommendation to name Domeracki (pictured above) as the district's new Director of Business Services. Domeracki will succeed Bob Flemming in that position, who has retired after 14 years of service to District 88. Flemming also is the proud parent of six District 88 alumni (who graduated from Addison Trail), and he served as a District 88 Board of Education member from 1997 to 2004.
Domeracki earned his bachelor's degree in finance from Western Illinois University and his master's degree in educational administration from Northern Illinois University. He also received his Chief School Business Official certification from Northern Illinois University. Prior to coming to District 88, Domeracki was the Assistant Director of Finance & Operations for North Chicago Community Unit School District 187 since July 2016 and was a financial analyst and Operations Manager with Aon Hewitt from 2011 to 2016.
"After learning about District 88 and the communities it serves, I felt its educational system was one that best matched my experiences and abilities," Domeracki said. "The opportunities afforded to students in District 88 demonstrate a progressive district and one that is very attractive to me. I look forward to establishing a professional relationship with the staff to understand their needs and work collaboratively with all members of District 88."
Domeracki lives in McHenry with his wife, Amanda, and their two children, William and Charlotte.
"I'm very pleased with the Board's decision to approve our recommendations to appoint Dr. Wilks and Domeracki to these positions," said District 88 Superintendent Dr. Scott Helton. "Their experience, work ethic and commitment to the students of District 88 will help ensure we accomplish our mission of working for the continuous improvement of student achievement."