College of DuPage Presidential Address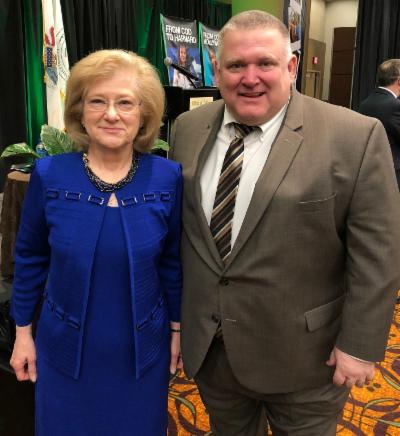 Pictured are College of DuPage President Dr. Ann E. Rondeau and District 88 Superintendent Dr. Scott Helton during Rondeau's "The Big Picture" Presidential Address to the Community on April 18. Photo provided by the Village of Addison
On April 18, College of DuPage (COD) President Dr. Ann E. Rondeau gave "The Big Picture" Presidential Address to the Community.
District 88 Superintendent Dr. Scott Helton attended the event, along with nearly 200 other local leaders and constituents. According to https://tinyurl.com/yaj262gc, Dr. Rondeau "(highlighted) the college's strong academics, healthy finances and resources available to students and community members."
Dr. Rondeau also emphasized existing strong partnerships between COD and numerous local entities, and she thanked District 88 for its partnership in working to successfully transition students to college. She also offered her hope for continued collaboration and encouraged guests to consider the endless potential for future endeavors.
The event also shared information about Innovation DuPage, a new business incubator and accelerator developed by COD in partnership with Choose DuPage, Rev3, Benedictine University, Elmhurst College and the Village of Glen Ellyn.
Dr. Rondeau highlighted the Addison Workforce Development Committee as well and commended the group for its efforts. That committee, led by Village of Addison Mayor Rich Veenstra, is comprised of the Village of Addison and local businesses and organizations, including District 88. The focus of the group is two-fold:
Collaborate to provide opportunities to train students and adults for jobs available in the area (as well as offer programs such as internships and job shadowing)


Develop a directory of local businesses (including contact information, open positions and skills employees need to have)
The committee's goal is to discover the needs of employers and train local students and adults to meet those needs.