District 88 hosts School Safety Forum with student leaders from 28 Chicago-area schools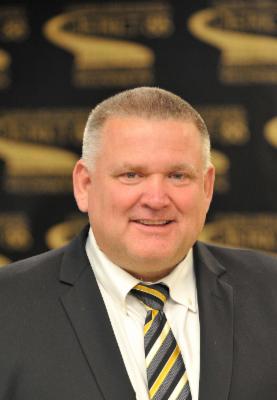 Pictured is District 88 Superintendent Dr. Scott Helton.
On March 12, we hosted an important and timely event at District 88.
We had about 400 student leaders from 28 Chicago-area high schools (including our two schools, Addison Trail and Willowbrook) come together for a day of conversation and planning regarding school safety during a forum at Willowbrook. Participants shared their voices and thoughts on local and national issues regarding this topic, left with an action plan to take back to their school and had an opportunity to speak with local and state civic leaders and legislators, as well as area first responders.
The forum began in Willowbrook's field house with participants answering online questions about which issues concern them most as students. They then met in groups with their peers and participated in a web mapping activity. During that session, they discussed the positive aspects of their school, community and beyond, as well as areas that could be improved, and brainstormed possible solutions to those issues/concerns. They also wrote down questions that were later asked to a panel of local dignitaries in attendance. It was truly an amazing experience to watch firsthand as these teenagers became involved and engaged citizens, taking action on a topic about which they feel passionate.
The students then transitioned to the auditorium, where each group presented its web map to the other students and dignitaries in the audience. The groups were able to express their thoughts regarding school safety and share their ideas on ways to make improvements, as well as how legislators and school administrators could assist in those efforts.
A panel of local legislators, village leaders and first responders then answered student-generated questions. Addison Trail social studies teacher Laura Magnavite and Willowbrook social studies Department Head Pete Montgomery served as moderators to guide the question-and-answer session.
I would like to thank the panelists and other local leaders listed below, who joined us to listen to and speak with our students. I also would like to thank the schools listed below that participated in the forum.
Panelists: Mike Lay (Police Chief, Village of Villa Park), Rich Veenstra (Mayor, Village of Addison), Murray Snow (Director, DuPage County Office of Homeland Security and Emergency Management), Joe Maranowicz (Deputy Police Chief, Village of Addison), Scott Walker (Deputy Fire Chief, Village of Addison), State Sen. Chris Nybo, State Rep. Deb Conroy, State Sen. Tom Cullerton, State Rep. Christine Winger, State Rep. Kathleen Willis, State Rep. David S. Olsen, State Sen. Tom Rooney, Ron Rakosnik (Fire Chief, Village of Villa Park) and Rich Jorgensen (DuPage County Coroner)
Other guests: Dr. Darlene Ruscitti (DuPage Regional Superintendent), James Zay (DuPage County Board Member), Bob Wagner (Trustee, Village of Villa Park), Rich Keehner (Village Manager, Village of Villa Park), Jan Fiola (Director of Economic Development, Village of Villa Park) and Bill Lyons (Deputy Chief, Village of Villa Park Police Department)
Schools that participated: Addison Trail, Amos Alonzo Stagg, Batavia, Bolingbrook, Carl Sandburg, College Preparatory School of America, Downers Grove North, Downers Grove South, East Leyden, Glenbard Directions Program, Glenbard East, Glenbard North, Glenbard South, Glenbard West, Hinsdale Central, Hinsdale South, Kaneland, Lake Park, Lyons Township, Morton East, Morton West, Riverside Brookfield, Victor J. Andrew, West Leyden, Wheaton North, Wheaton Warrenville South, Willowbrook and York
Videos from the forum:
Special thanks to: Peg Agnos and Jen Figurelli from LEND for their endless work in assembling many of the panelists; Addison Trail social worker Jorge de Leon and Willowbrook social worker Erik Engel for coordinating and implementing the forum; the staff at Willowbrook for hosting and organizing the event
On March 14, about 550 District 88 students participated in a student-organized, peaceful act of demonstration related to school safety. Students who chose not to participate remained in classrooms engaged in instruction with teachers. I would like to thank our students for the respect, maturity and citizenship they displayed during these events, our administration and staff for their support of all our students and our local law enforcement (the Addison Police Department, the Villa Park Police Department and the Illinois State Police) for their assistance in maintaining a safe and secure environment at our schools.
The safety and well-being of our students and staff is our No. 1 priority at District 88, and we are committed to working with all of our partners to uphold the security of our buildings. We all share the goal of making our schools safe and welcoming for our students, staff and visitors, and we can accomplish that goal by working together and remembering that if you see something, say something. To read more about the safety and security measures to maintain a secure and caring home at Addison Trail and Willowbrook, go to https://www.dupage88.net/site/page/8086. Thank you for your continued support of District 88.