District 88 gives back to help those affected by Hurricane Harvey
At District 88, giving back is truly part of our culture and is a cornerstone of pride.
Our students and staff again exemplified that focus on helping others through participating in several recent fundraisers to assist those affected by Hurricane Harvey, which impacted Texas in August. According to www.cnn.com, Hurricane Harvey has left about 30,000 people in need of temporary shelter, about 215,000 students out of school and about 450,000 victims who will need disaster assistance. Our students and staff quickly got to work to make a difference through the following initiatives.
Addison Trail
Addison Trail and District 88 raised more than $2,400, which will benefit American Red Cross, first responders and animal rescue organizations helping with relief efforts in Texas.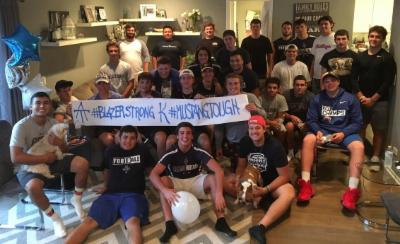 The Addison Trail Football Team collected $500 for the football team at Kingwood High School in Houston. (pictured above)
Addison Trail students and staff members wrote 120 letters of sympathy, encouragement and hope for high school students at Angleton High School. (pictured above)
Willowbrook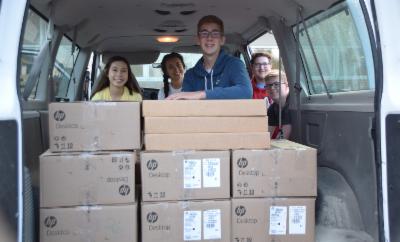 Willowbrook's Key Club and Social Studies Honor Society (Civitas) collected school supplies for Kashmere High School in Houston, where the niece of Willowbrook literacy aide Sue Nolte is a staff member. About 700 pounds/20 boxes of supplies was sent to the school. Shipping costs were covered through donations by Willowbrook's Student Council, the Lauren Kiefer Memorial Foundation, Inc. and the DuPage District 88 Council Local 571 American Federation of Teachers. (pictured above)
Our motto at Addison Trail and Willowbrook is "One School, One Community, One Family." And that core value of our district was displayed through these initiatives to reach out to those in need. Our hearts and thoughts are with those affected by this event, as well as the other natural disasters that have taken place recently. The list above highlights just a few of the efforts that will take place this year at Addison Trail and Willowbrook as part of our culture of giving back. Thank you for your continued support of District 88.