District 88 Board of Education recognizes outgoing Board member for years of service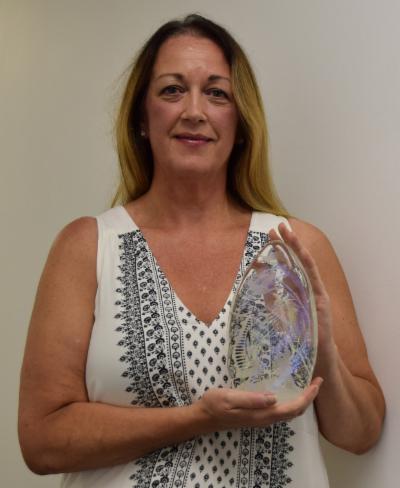 During its Aug. 28 meeting, the District 88 Board of Education recognized Lisa Lullo for her years of service on the Board. She was presented with a personalized glass sculpture created by former Willowbrook art department chair Bob Fritz. To watch the presentation, go to https://www.dupage88.net/site/page/7664 (select "Board Member Service - Lisa Lullo").
Lullo has been a member of the Board since 2011, and her impact on Addison Trail and Willowbrook will help build positive futures for District 88 students for years to come. She has been on committees that focus on behavioral interventions, curriculum, finance, evaluation/compensation, the District 88 Foundation, Board scholarships for students, technology, policy, the School Association for Special Education in DuPage County (SASED), the Citizens Advisory Council and more.
While Lullo has been on the Board for nearly seven years, her connection to District 88 spans more than three decades. Lullo is an alumna of Addison Trail, class of 1984. She has not only been a student within District 88, but she also provides a parent perspective, as her four children went through Addison Trail as well.
When asked in the past what inspired her to serve as a Board member, Lullo said, "A good educational system is an essential element of a community. District 88 has always had a reputation of providing a quality learning experience in a safe and effective environment. My four children have benefited by receiving their education from the district. Serving as a Board member enables me to ensure other children in our community also benefit."
Lullo added the most rewarding aspect of being a part of the Board was "seeing what our students have been able to accomplish – every day I am proud of their successes."
Lullo recently resigned from the Board, and District 88 is thankful for all she has done for our schools, students and communities. Her passion will ensure the district continues to accomplish its mission of working for the continuous improvement of student achievement. District 88 wishes Lullo the best in the future, and she will always be part of the District 88 family.
Lullo's seat on the Board has been filled by Mark Turk, who was appointed on Aug. 14. To read more about Turk, go to https://www.dupage88.net/site/page/7623.