District 88 Board of Education celebrates Summer Commencement 2017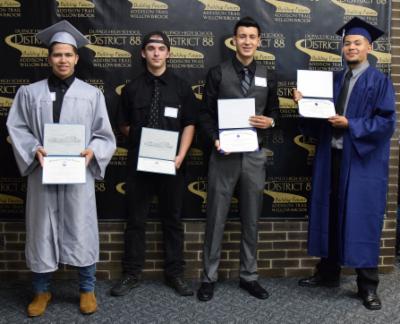 Before its Aug. 28 meeting, the District 88 Board of Education recognized Addison Trail and Willowbrook students for graduating from District 88 during its Summer Commencement celebration. To watch the ceremony, go to https://www.dupage88.net/site/page/7667.
The Addison Trail students who graduated are Santana Guzman, Alexis Hernandez, Angel Noriega, Westin O'Neill, David Ortega, Claudia Ramirez and Jazmin Rodriguez. The Willowbrook students who graduated are Kevin Alcantara, Sarah Aviles, Nicholas Donaldson, Anthony Moore, Juan Moreno and Alejandro Villicano.
During the ceremony, District 88 Superintendent Dr. Scott Helton welcomed the crowd and congratulated the students, Addison Trail Principal Michael Bolden and Willowbrook Principal Dr. Daniel Krause awarded the diplomas and District 88 Board President Donna Craft Cain offered closing remarks of encouragement.