District 88 Board of Education appoints new Board member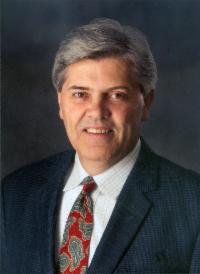 Pictured is Mark Turk, who was appointed to the District 88 Board of Education on Aug. 14.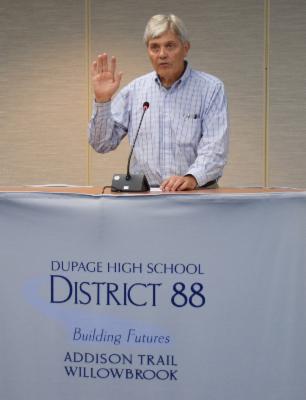 Mark Turk completes the Oath of Office and is appointed to the District 88 Board of Education on Aug. 14.
During its Aug. 14 meeting, the District 88 Board of Education appointed Mark Turk to fill a seat that opened after Lisa Lullo resigned from the Board. Turk will assume that position until the next Consolidated General Election on April 2, 2019.
Turk might be new to the Board, but he's certainly a familiar face in District 88. He is the parent of two Addison Trail High School alumni – his daughter, Sara, graduated in 2005, and his son, Matthew, graduated in 2009. Turk has lived in Addison for more than three decades with his children and his wife, Denise.
"I truly enjoy working with students and have a passion for education," Turk said. "As a new member of the District 88 Board of Education, my focus is to enhance the educational experience for our students, as well as parent involvement."
Turk has served on several committees that benefit Addison Trail pupils, including:
Member of the Teacher-Parent Organization (TPO) and the Athletic, Music and Theatre booster clubs
Co-President of the Citizens Advisory Council (a group that discusses current issues prevalent in the high school and serves as a liaison between the community and the school board)
District 88 steering committees for curriculum, activities and athletics
Co-Chair of the Building The Future Committee (a $104.7-million referendum proposal to modernize the infrastructure and learning environment of District 88, which passed in April 2007)
Board Member of the Partnership for Inspired Education (PIE) Foundation (a 501(c)(3) charitable organization that serves public school students in District 88, Addison School District 4, School District 45 and Salt Creek School District 48)
Board Member of the Addison Center for the Arts (a 501(c)(3) organization inside Addison Trail that was created to advance the arts through promoting community involvement, personal development, skill enhancement and interconnectedness)
Appointed by the former Mayor of the Village of Addison as a member of the Addison Unity Task Force (a committee that helps celebrate, promote and enhance the quality of life in a diverse community through workshops, seminars and activities designed to unify village residents)
"Mark will be a tremendous asset to the Board, as he can provide valuable perspectives as a District 88 parent, community member, committee leader and business owner," said Donna Craft Cain, District 88 Board President. "His knowledge, along with his dedication and commitment to our schools, will help us accomplish our mission of working for the continuous improvement of student achievement."
Turk is President and CEO of International Label & Printing Co., Inc. in Elk Grove Village. He also has been a Production Manager at Chicago Sun-Times and Eastern Illinois University (where he also taught journalism) and a Pressman/Reporter with Pana News-Palladium. He earned his bachelor's degree in journalism/speech-communications and his master's degree in industrial technology from Eastern Illinois University.
"I wanted to be on the District 88 Board because I found it to be a very dynamic, strong group, and I would like to contribute to their efforts," Turk said. "In my experience as a business owner for the past 25 years, I have always had the mindset to make decisions I thought would be in the best interest of my company – not necessarily the most popular, or personally beneficial. I strongly believe the same philosophy should apply to a Board member. The best interests of the students and their families should always come first. I look forward to working together to help make a positive difference in the lives of our students."
Turk joins District 88 Board of Education members Donna Craft Cain (President), Jay Irvin (Vice President), Sharon Kucik (Secretary), Thomas Edmier, Timothy Gillen and Blanca Jessen. District 88 would like to thank Lisa Lullo for her years of service to the district's students and school community, as she has been a Board member since 2011. Lullo also is a graduate of District 88 (Addison Trail class of 1984), as are her four children. Lullo's impact on Addison Trail and Willowbrook will help build positive futures for District 88 students for years to come.
"Mark has been part of the District 88 family for more than 15 years and is a natural fit to join our Board of Education," said Scott Helton, District 88 Superintendent. "He will be a great addition and will continue the outstanding work of our Board to ensure a high-quality education for all of our students."