District 88 honors staff members during annual Staff Recognition Dinner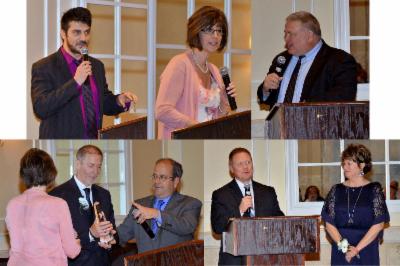 During the District 88 Staff Recognition Dinner on May 5, the district honored 11 retirees from Addison Trail and Willowbrook and also recognized more than 60 staff members who have served District 88 for 10 years or more.
The 2016-17 retirees are:
Addison Trail: Nina Fedorchuk, Ranko Igric, Bruce Kelsay, Martin Schatzman and Diane Zoglman
Willowbrook: Jayme Gerue, Peter Ginter, Geri Hayes, James Janos, Darlene Pollack and Jeffrey Reher
District 88 Board of Education Secretary Sharon Kucik welcomed the crowd, and District 88 Superintendent Dr. Scott Helton gave the closing speech. The master of ceremonies for the evening was Jim Perusich, Addison Trail English teacher.
The Outstanding Achievement Awards went to Bruce Kelsay for Addison Trail (School Psychologist) and Geri Hayes for Willowbrook (Executive Assistant to the Principal). To see the program from the event with the names of the honorees, go to https://www.dupage88.net/site/public/files/?item=3428.