Eye on Education: Become an accessibility ambassador through Project Sidewalk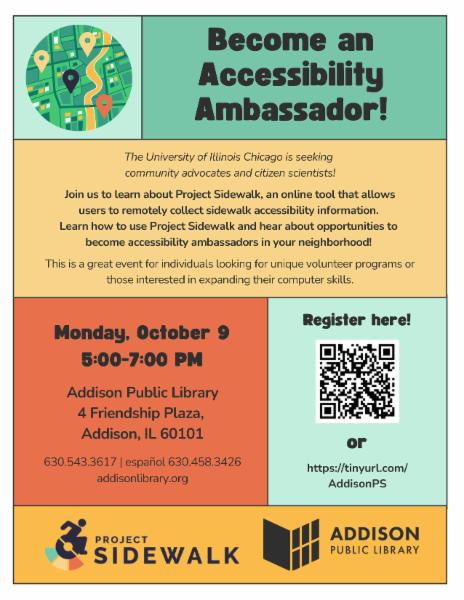 The Eye on Education section of the newsletter highlights an education-oriented article or topic. The goal is to provide an outside perspective and more information to continue to educate parents/guardians, students, staff members and community members to improve the educational learning environment of District 88.
This week's Eye on Education features an opportunity to become an accessibility ambassador.
University of Illinois Chicago is seeking community advocates and citizen scientists to learn about and join Project Sidewalk, an online tool that allows users to remotely collect sidewalk accessibility information. This crowdsourced information supports improved pedestrian accessibility and safety. This is a great option for individuals looking for unique volunteer programs or those interested in expanding their computer skills.
A training/informational session about Project Sidewalk will take place from 5 to 7 p.m. on Oct. 9 at Addison Public Library, 4 Friendship Plaza in Addison. To register for the session, go to https://tinyurl.com/AddisonPS. For questions or more information, call the library at 630-543-3617 (Español 630-458-3426), contact Devon Snyder at dsnyde8@uic.edu, or go to projectsidewalk.org.