District 88 celebrates Staff Appreciation Week
Pictured is District 88 Superintendent Dr. Jean Barbanente.
This past week was a special time in education.
From May 2 to 6, we celebrated Staff Appreciation Week, which is a time to reflect on everything our staff members do for each and every student each and every day.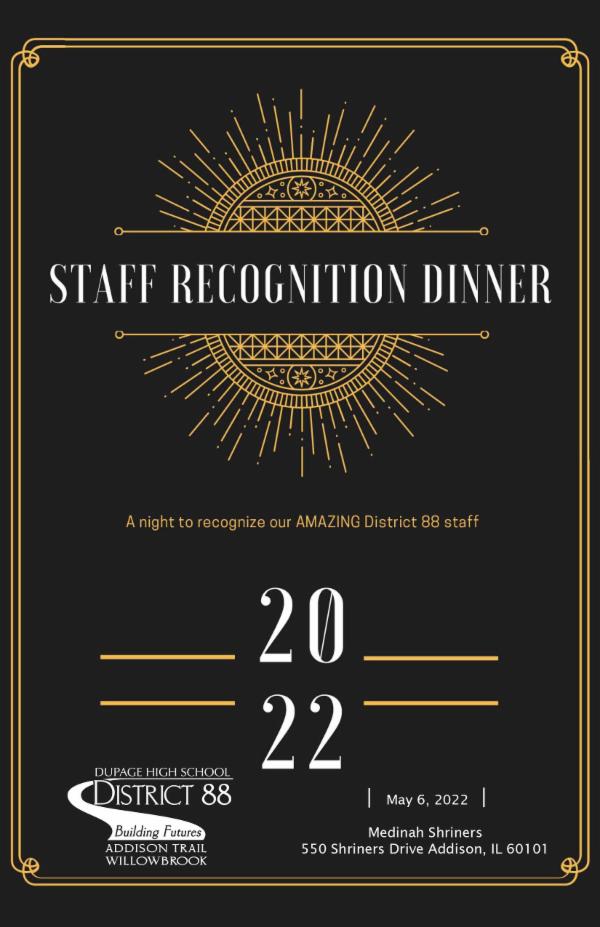 It's fitting this event coincides with our Staff Recognition Dinner, which took place on May 6 and was our first in-person Staff Recognition celebration since 2019. This year, we recognized 92 members of our District 88 family for giving more than 1,510 years of combined service to the district. We also said thank you to 17 members who will retire at the end of this school year and – combined – have given nearly 430 years of service to District 88. To view the program from the event, go to https://dupage88.net/site/public/files/?item=6345. The program cover, which is pictured above, was designed by Willowbrook junior Hope Reckamp.
One notable person was missing from the event – our late Superintendent, Dr. Scott Helton. Scott was intending to retire in June, but his journey came to an end much too soon. His legacy and impact on the District 88 learning community would have been shared during the Staff Recognition Dinner, but instead was shared with the world during his memorial last year. Scott was a gifted leader, a champion for students and an ally to those who needed a voice. His leadership and friendship will forever be missed.
Our students continue to receive state and national recognitions in academics, athletics and extracurricular activities, and that happens because of our partnerships and a committed and passionate staff, a knowledgeable Board of Education, involved parents/guardians and community members and engaged students. To see/read about those accomplishments, see the 2021-22 photo albums at:

To celebrate Staff Appreciation Week:
The Addison Trail Parent Organization (ATPO) provided grab-and-go treats, National Honor Society provided popcorn and Student Council offered cannolis, coffee and granola/power bars.





At Willowbrook, the administration, Student Council and Willowbrook Parent Organization (WPO) provided continental breakfast on Monday, snacks/refreshments on Tuesday, pizza lunch on Wednesday, raffle prizes on Thursday and donuts on Friday.





The villages of Addison, Lombard

and Villa Park

provided proclamations to recognize and honor the event.





Local businesses displayed messages on their marquees/signs to celebrate the week and to thank educators in school districts 4, 45, 48 and 88.
I would like to thank those businesses/organizations and school groups for joining us in recognizing this special occasion.
Our staff members continue to foster an inclusive environment and a sense of belonging for all students. I again give a heartfelt thank you to our staff members for their unending support of our mission to work for the continuous improvement of student achievement.
With District 88 Pride,
Jean Barbanente, Ed.D.
District 88 Superintendent