Important message from District 88 regarding updated COVID-19 prevention guidance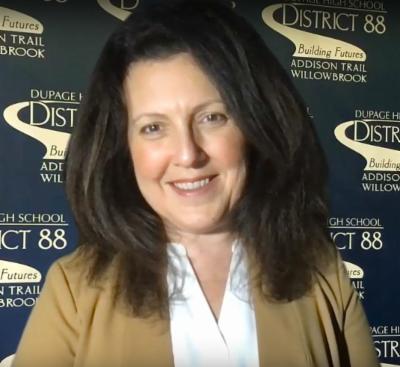 Pictured is District 88 Superintendent Dr. Jean Barbanente.
As we recently shared, updated COVID-19 prevention guidance for schools was released on July 9 from the Centers for Disease Control and Prevention (CDC), the Illinois Department of Public Health (IDPH) and the Illinois State Board of Education (ISBE). On July 20, the DuPage County Health Department also released a guidance document.
CLICK HERE to view the full updated guidance.


CLICK HERE to view the DuPage County Health Department.


CLICK HERE to review the guidance document issued by the district's legal firm.
The health, safety and well-being of students and staff is our No. 1 priority. As previously shared, we are planning for a full return to in-person learning for the 2021-22 school year, with our traditional eight-period day/schedule. To facilitate a safe return to full in-person learning, the current guidance emphasizes schools and communities should monitor community transmission of COVID-19, vaccination coverage, screening testing and outbreaks to guide decisions about the level of layered prevention strategies being implemented. Should local levels increase, we will revisit our procedures and will consider implementing necessary mitigation measures.
We will use the information below to guide our decisions about the level of layered prevention strategies:
WHICH PREVENTION/MITIGATION STRATEGIES WILL BE IMPLEMENTED FOR THE 2021-22 SCHOOL YEAR?
Currently, the community transmission levels are "MODERATE." Assuming the transmission levels remain consistent, we will recommend the following mitigation strategies for the 2021-22 school year:
Masks: Masks will not be required for students and staff on campus. However, the CDC has said all unvaccinated individuals should continue to wear a mask. All individuals (whether vaccinated or not) must wear a mask while riding a school bus.


Social distancing: We will follow the CDC recommendation of maintaining at least 3 feet of physical distance between students within classrooms.


Screening testing: We will make COVID-19 testing available, with parent consent, for students who are symptomatic on campus. Details will be shared as soon as possible (BinaxNOW info).


Ventilation: We will continue to use upgraded air filters, MERV 13 and doubled the fresh air intake into our air handling units.


Quarantine and isolation: We will follow the CDC recommendations with regard to quarantine and isolation. CLICK HERE to view the updated guidance.


Cleaning and disinfection: We will follow the CDC recommendations with regard to cleaning and disinfection. CLICK HERE to view the updated guidance. Hand sanitizer, sanitizing wipes and cleaning supplies will continue to be available in all classrooms and offices.
WILL STUDENTS HAVE A REMOTE LEARNING OPTION THIS SCHOOL YEAR?
While school districts aren't required to provide remote learning options for students (other than during a quarantine), District 88 is offering a Virtual Learning Academy to accommodate students who were successful in an online environment and wish to remain remote. The Virtual Learning Academy will provide synchronous instruction through Zoom, with the curriculum taught by District 88 teachers and supplemented by the online platform Edgenuity. For more information about the program, including how to apply, go to https://www.dupage88.net/site/page/13530.
WILL DISTRICT 88 REQUIRE STUDENTS AND STAFF TO PROVIDE VERIFICATION OF VACCINATION?
While it isn't a requirement for students and staff to submit verification of vaccination, we are providing an option to upload this information to assist with contact tracing. Should a close-contact or outbreak situation occur, this information is a way for the district to know which students and staff don't need to quarantine or isolate. The content will be kept secure and won't be shared. Those who would like to complete the form can do so at the links below.
Plan for ARP ESSER Funding
The American Rescue Plan Elementary and Secondary School Emergency Relief (ARP ESSER) Fund under the American Rescue Plan (ARP) Act of 2021, Public Law 117-2, enacted on March 11, 2021, provides a total of nearly $122 billion to states and school districts to help safely reopen and sustain the safe operation of schools and address the impact of the coronavirus pandemic on the nation's students.
For more information about ESSER funding:
Below are the areas in which District 88 plans to allocate ARP ESSER funds:
Implementation of a Virtual Learning Academy (see details above).


Additional coaching positions to foster inclusion of students to bridge the return to in-person learning.


Purchase of instructional materials to address learning loss and to support the return to in-person learning.


Additional teacher aides in the District 88 Transition Program, which helps individuals ages 18 to 21 who have disabilities learn life skills, obtain job training in a community setting and transition to life after District 88.
District 88 is providing a survey for stakeholders to offer feedback regarding the district's plan to allocate ESSER funds. The following form will be open until Sept. 16, 2021.
Thank you for your continued support of District 88. We're excited to focus on the future as we get ready for the 2021-22 school year and continue to collaborate with all of our stakeholders to accomplish our mission of working for the continuous improvement of student achievement.

With District 88 Pride,
Jean Barbanente, Ed.D.
District 88 Superintendent