District 88 celebrates and honors staff during annual Staff Recognition event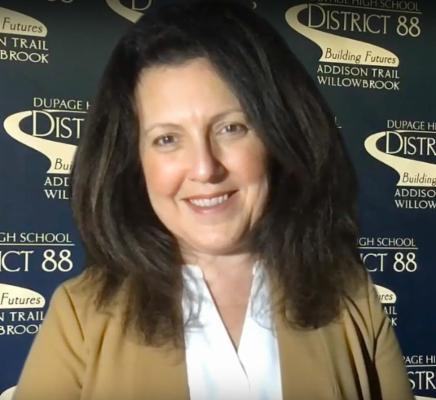 Pictured is District 88 Superintendent Dr. Jean Barbanente.
On June 1, we were excited to host our annual Staff Recognition event, where we recognized 56 individuals who have served District 88 for 10 years or more and have given 960 years of combined service to our learning community, as well as our Outstanding Achievement Award winners. We also honored 11 staff members who retired at the end of this school year and – combined – have given 233 years of service to District 88. Although they're leaving our buildings, their legacy will forever be felt and remembered – they have truly left their mark on our students, schools and communities.
To view pictures from the event, see the photo gallery below.
The 2020-21 retirees are:

Addison Trail: Debra Cuthbertson, Sheri D'Ambrose and Amy Murphy
CLICK HERE to read more about the retirees.
Willowbrook: Denise Birkner, Lisa Cuscaden, Corazon Luis, Bernice Nash, Troy Nelson, Patti Reher and Elizabeth Stady
CLICK HERE to read more about the retirees.
District Office: Julie Grube
We also are pleased to name the late District 88 Superintendent Dr. Scott Helton as an honorary retiree. Dr. Helton had more than 33 years of experience in education and served in a variety of capacities, including as Principal of Addison Trail for 11 years and as Superintendent of District 88 since 2012. He was incredibly ingrained in the District 88 community and helped build positive futures for countless students through his contributions to public education and coaching football, wrestling and track. He will be greatly missed. To view events in honor of Dr. Helton, go to www.dupage88.net/ScottHelton. This link includes a virtual memorial, a virtual funeral, a candlelight vigil, concerts and a scholarship fund in Dr. Helton's name.
The Outstanding Achievement Award recipients are Janine Nacht (Cafeteria Manager) for Addison Trail and Josh Zwart (math and Project Lead The Way teacher and technology instructional coach) for Willowbrook.
I would like to thank all of our honorees for their endless commitment. It is because of their efforts that we're able to accomplish our mission of working for the continuous improvement of student achievement. When reflecting on this past school year and everything our staff members have endured, saying thank you just doesn't seem enough. From the coronavirus disease 2019 (COVID-19) pandemic, to the social/civil unrest throughout the country, to the passing of Dr. Helton, the hardships we have faced have been difficult and many. There are no words to describe how hard our staff has worked to stay connected with students during this unprecedented time. There are no words to describe what it was like to completely restructure our education system and for teachers to have to transform their homes into classrooms. And there are no words to describe what it's like to suffer the loss of a true leader, education ambassador and friend during such an unimaginable crisis.
But through it all, our staff members have remained focused on our goal to build futures for students. Their dedication to our pupils, families and school community never wavered, and they continue to adapt and make the best of the situation. No matter what challenges we face in education, I know we will succeed because of the passion and commitment of our staff members. The Staff Recognition event is a tremendous opportunity to celebrate how they go above and beyond for each and every student each and every day.
Thank you for your continued support of District 88.
With District 88 Pride,
Jean Barbanente, Ed.D.
District 88 Superintendent