District 88 celebrates Staff/Teacher Appreciation Week
This video may take up to a minute to start after click the play button depending on your connection speed and browser.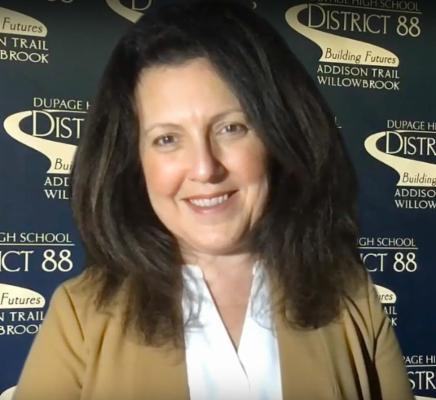 Pictured is District 88 Superintendent Dr. Jean Barbanente.
Each year in May, we designate a few days to recognize our staff members as we celebrate Staff/Teacher Appreciation Week. This is always a special time to thank our educators for all they do each and every day for each and every student. This year, Staff/Teacher Appreciation Week took place from May 3 to 7.
With everything our teachers and staff members have endured this past year, saying thank you just doesn't seem enough. From the coronavirus disease 2019 (COVID-19) pandemic, to the social/civil unrest throughout the country, to the passing of our Superintendent Dr. Scott Helton, the hardships we have faced have been difficult and many. There are no words to describe how hard our staff has worked to stay connected with students during this unprecedented time. There are no words to describe what it was like to completely restructure our education system and for teachers to have to transform their homes into classrooms. And there are no words to describe what it's like to suffer the loss of a true leader, education ambassador and friend during such an unimaginable crisis.
But through it all, our staff members have remained focused on our goal to build futures for students. Their dedication to our pupils, families and school community never wavered, and they continue to adapt and make the best of the situation.
It's fitting our Staff Recognition ceremony traditionally takes place in early May, as the capstone event to Staff/Teacher Appreciation Week. This year, we will celebrate our honorees during an Institute Day on June 1. We look forward to recognizing 56 individuals who have served District 88 for 10 years or more and have given 960 years of combined service to our learning community. We also will recognize our Outstanding Achievement Award winners and 11 staff members who will retire at the end of this school year. More information will be shared closer to the date of that event.
Below are highlights from Staff/Teacher Appreciation Week. During the May 10 District 88 Board of Education meeting, we shared a video featuring these highlights (view the video at the top of this page).
At Addison Trail, the Teacher-Parent Organization (TPO) provided doughnuts for staff, the administration offered a grab-and-go taco lunch and the Student Council gave staff members a gift to say thank you.


At Willowbrook, the administration and the Willowbrook Parent Organization (WPO) provided "Teachers Are Essential" stickers, "tacos to go" on Monday, decorative "W" cookies on Tuesday, Dairy Queen Dilly Bars on Thursday and Dunkin' Donuts on Friday. The WPO and Student Council also hosted raffles throughout the week, with giveaway prizes of gift cards and school apparel.


The villages of Addison, Lombard and Villa Park provided proclamations to recognize and honor the event.


Local businesses displayed messages on their marquees/signs to celebrate the week and to thank educators in school districts 4, 45, 48 and 88.
While we take a few days each May to honor Staff/Teacher Appreciation Week, the relentless passion and above-and-beyond efforts consistently demonstrated by our staff – especially this past year – are noticed and appreciated throughout the year. On behalf of the District 88 Board of Education and administration, I would like to personally thank our staff members for making a positive difference in the lives of our students and for their commitment to accomplishing our mission of working for the continuous improvement of student achievement.